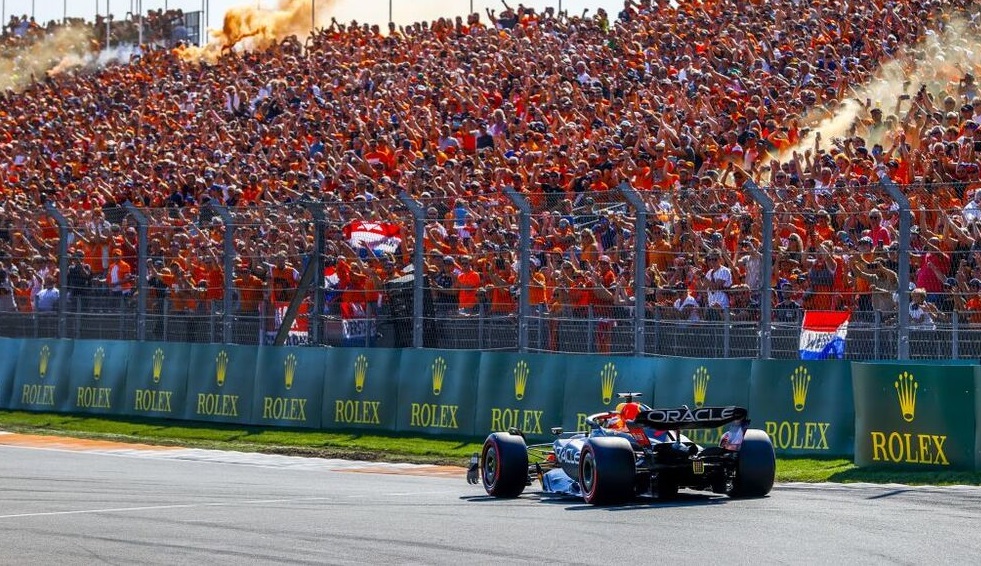 The Dutch Grand Prix Final, which was the second year, the stands are all orange Max fans.
In qualifying there was a commotion with people throwing smoke bombs on the course, but if something like that happened in the final it wouldn't be enough to destroy the race.
Some stupid people aren't fans.
Verstappen, Leclerc and Sainz are all within 0.1 seconds of each other in qualifying, so we're looking forward to a great race and a great battle.
Tsunoda should win a prize this time!
Sponsored link
Starting order and tires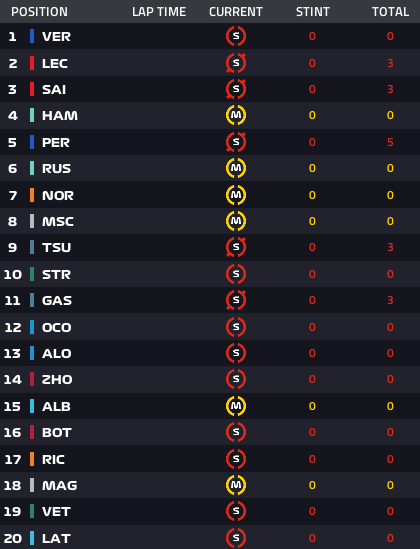 The loss time at the pit-in is about 21 seconds.
Dutch GP final report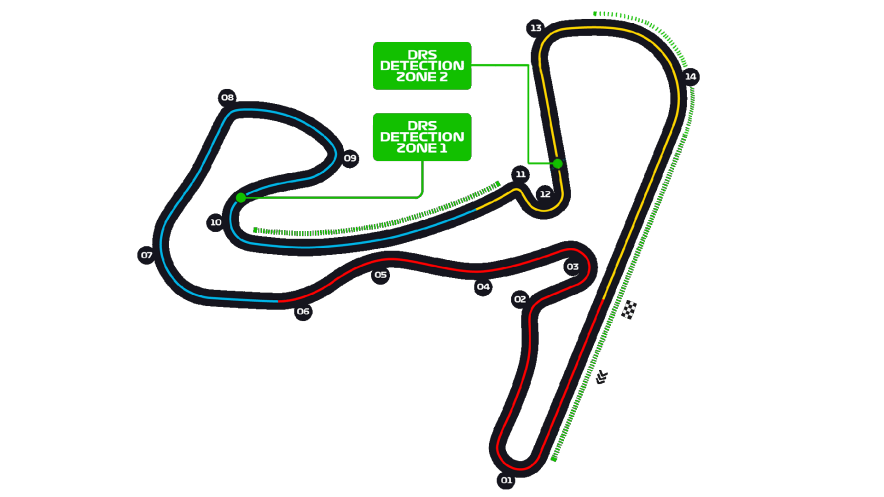 The weather was fine, the track was dry, the air temperature was 22°C and the track temperature was 32°C.
Departure: Verstappen takes the hole, Tsunoda falls 11th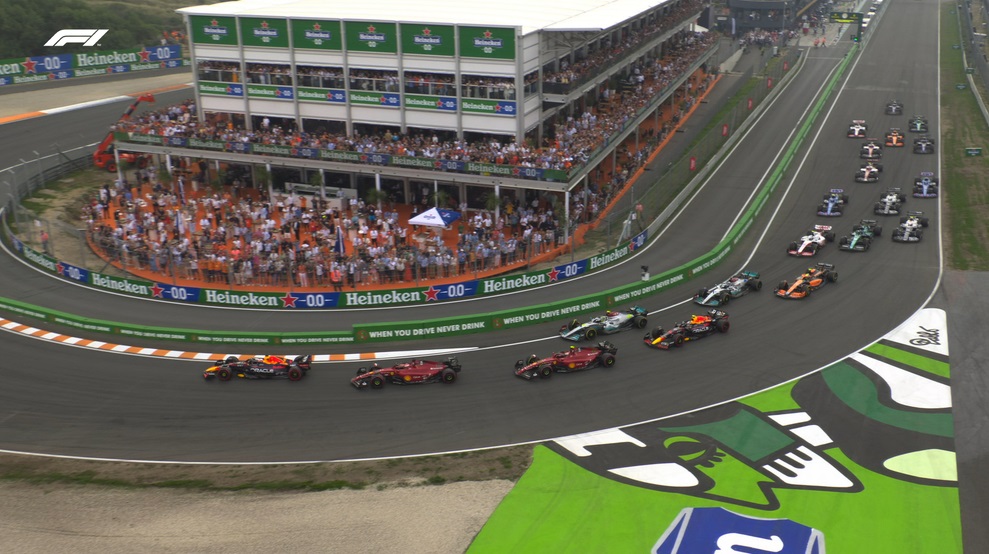 Round 2: Magnussen leaves the track and takes 20th place
End of round2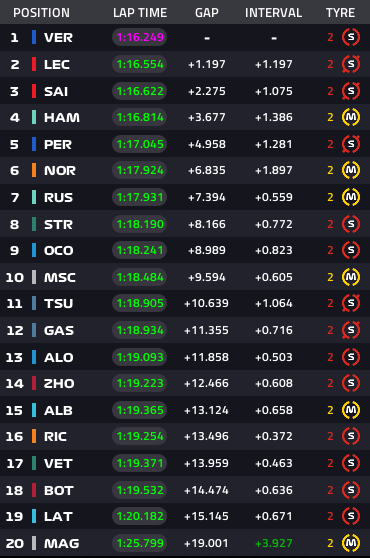 Round 3: Russell overtakes Norris for 6th place
Lap6: 4th place Hamilton uses DRS against Sainz, but he can't get close to it at all.
Round 10: Alonso overtakes Gasly for 12th place
Lap12: Alonso passes Tsunoda in 11th, Vettel in mid 19th, Ricciardo in mid 20th, Gasly in mid 18th
Lap13: Alonso goes strong in the 16th
Round 14: Tsunoda averages 14th place
Lap15: Sainz moves to medium, 11th after losing time without a tyre, Perez moves to medium, 8th
Lap17: Leclerc 4th in mediums, Stroll 10th in mediums, Bottas 17th in softs
Lap 18: Norris goes strong in 9th
Round 19: Verstappen 3rd at average
Round 20: Sainz overtakes Albon for 6th place
End of round20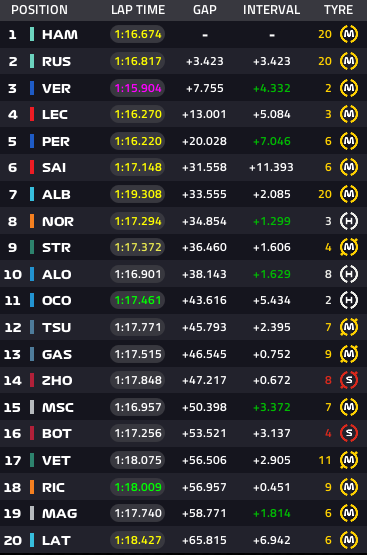 Lap22: Albon 16th at average
Lap 28: Verstappen overtakes Russell for second place
Lap29: Ricciardo goes strong in the 19th
Lap30: Hamilton goes strong in the 5th
Lap31: Russell goes strong in the 5th
Lap33: Gasly goes strong in the 18th
Lap36: Perez and Hamilton side by side in turn 1, Perez defends his position.
Lap 37: Hamilton overtakes Perez for 3rd place
Lap41: Perez goes strong up to 7th place
End of round42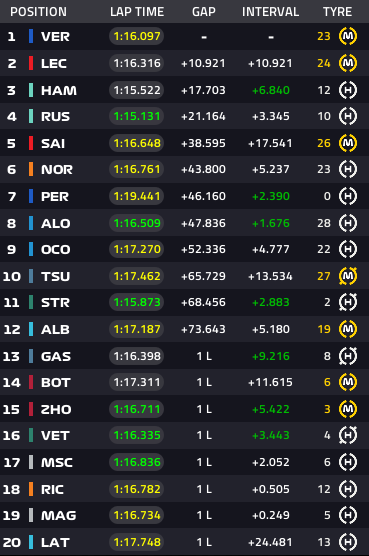 Verstappen will continue the long term with the midfielder as he is sure Hamilton will be up front when he stops.
Lap45: Tsunoda went hard, and the nut was loose, so he pulled to the side of the track, but returned to the pits.
Lap 46: Leclerc goes strong to 4th place
Lap47: Tsunoda entered the pit and entered the course smoothly, but it seems there was a gearbox problem and he stopped and went VSC.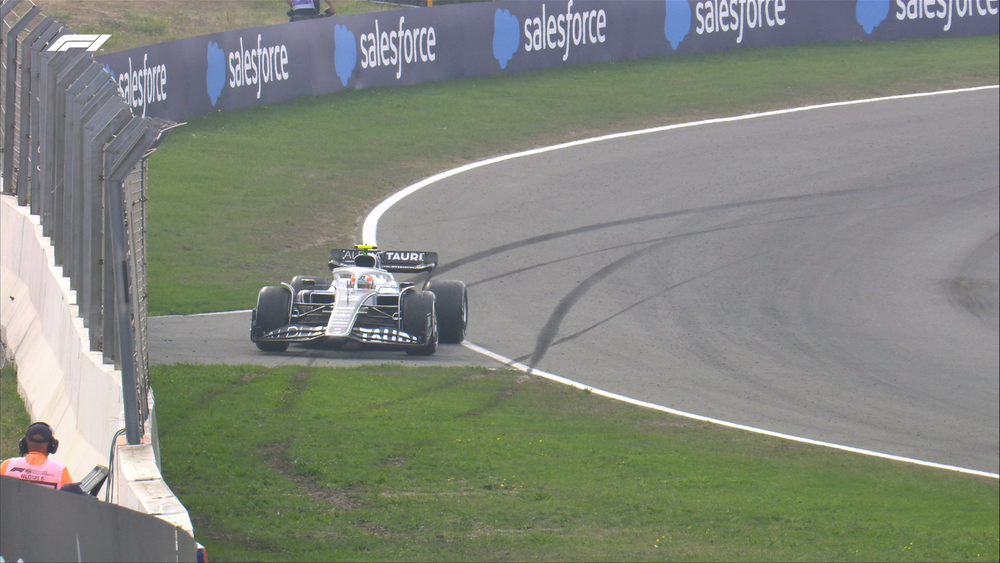 Lap48: ​​Verstappen 1st at hard, Hamilton 2nd at medium, Russell 3rd at medium
Lap 50: resumption of the race
Lap 55: Bottas stops before turn 1.
Lap56: It became SC.
Lap57: Verstappen is 3rd on soft, Leclerc is 4th on soft, Perez is 5th on medium, and the next after the other pricked and changed to soft.
Lap58: Russell 3rd to soft
Only Hamilton remained in the middle.
At the end of Lap58 (during the SC)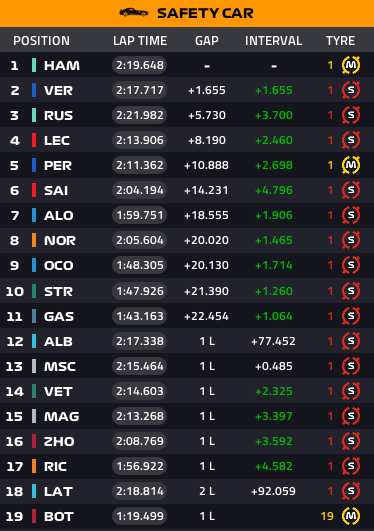 Lap61: Race resumes, Verstappen overtakes Hamilton for 1st at turn 1, Sainz overtakes Perez for 5th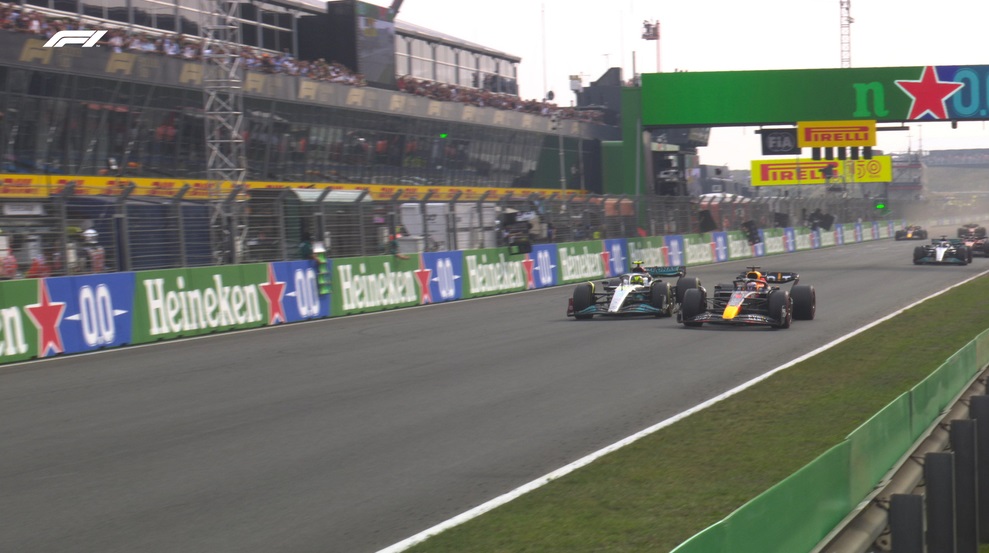 Lap63: Verstappen and Hamilton are two seconds behind.
Lap64: Russell passes Hamilton for second place
Lap66: Leclerc overtakes Hamilton for 3rd
Sainz was given a five-second penalty for a dangerous outing.
Lap70: Perez lines up hard with Sainz and loses time
No job change.
Lap72 Ends: Verstappen takes Chacker to the top.
Final results of the Dutch Grand Prix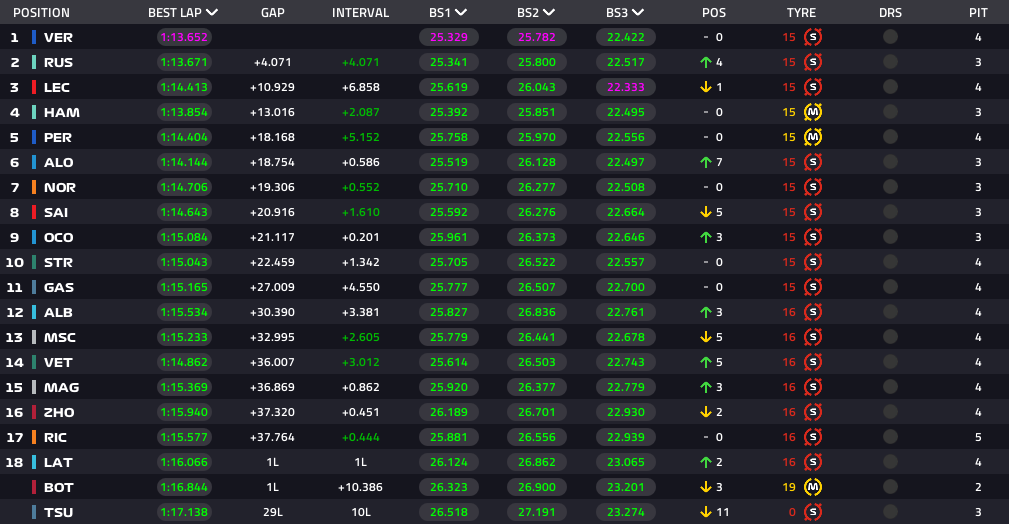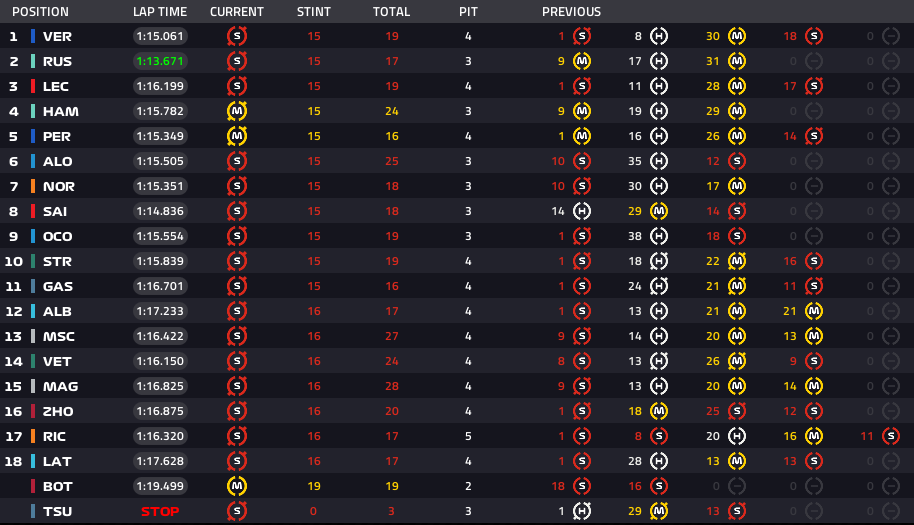 Sponsored link
summary
Verstappen won his home country for the second year in a row.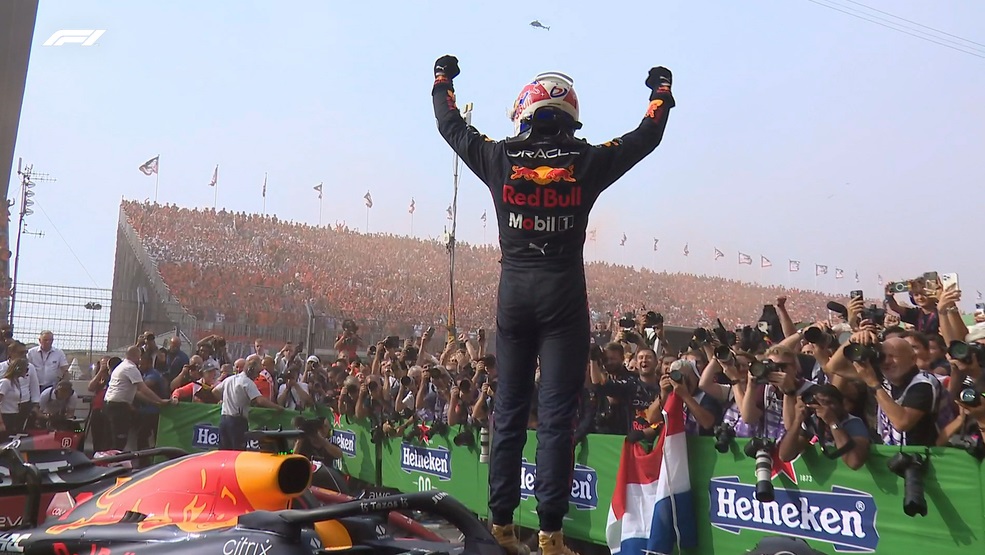 The sole objective of both Mercedes was to create an advantage in track position, but it fell apart in the burlesque VSC of Alpha Tauri.
In the SC due to Bottas being suspended on the course, Verstappen easily passed Hamilton and took first place thanks to the exchange of software from the Red Bull camp, who had read that it would be a sprint race.
Hamilton, who had remained alone in the middle, exploded with rage defending.
I felt like I was watching a race at all times.
Ferrari, who are expected to continue, are out of tires and cannot keep up with Verstappen, losing position to Mercedes.
The car's regenerative oversteer is always bad for race pace.
Alpha Tauri was in a situation where the race pace was bad even though he was good in qualifying this time, and it was hopeless.
Tsunoda and Alpha Tauri's slapstick drama is as usual…
How strong are Red Bull and Verstappen?
Machines that still tend to undertrack and overspeed on the straights are superior in tire management and are superior in combat as well.
The point gap has widened, and even Verstappen has almost nothing to lose, and he can't create a situation where he hesitates in the fight.
There is currently no way to defeat this combination.
It's hard to stop Verstappen's winning streak, and I feel like I'm going to break the record for most wins in a year.