On August 29, Teikoku Databank announced the results of a survey on employment surplus and shortage of regular and non-regular employees.publicationdid. The survey period was July 15-31, with 25,723 businesses surveyed nationwide and 11,503 valid responses.
Shortage of regular employees '47.7%', up 7 points from the same month of 2021
Asked about the surplus or lack of employees in July 2022, 47.7% of companies answered that there was a "shortage" of regular employees. Compared to the same month of the previous year, it increased by 7.0 points, and compared to the same month two years ago, it increased significantly by 17.3 points.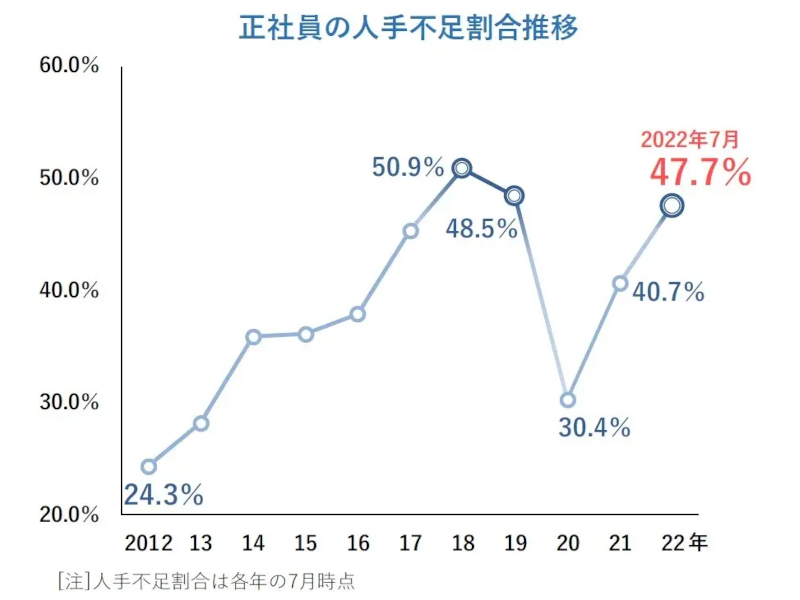 Regarding this figure, Teikoku Databank said, "It has reached a level close to the labor shortage rate before the corona crisis, and as a result, almost half of companies have a feeling of labor shortage. of work". Additionally, 42.5% felt the workforce was "adequate", and 9.8% felt it was "excessive".
28.5% of non-regular employees answered that there was a shortage. Also up 6 points
In July 2022, 28.5% of businesses responded that there was a shortage of non-regular employees. As for full-time employees, this also increased by 6 points compared to the same month of the previous year. In addition, 63.2% said the workforce was "adequate" and 8.3% said it was "excessive".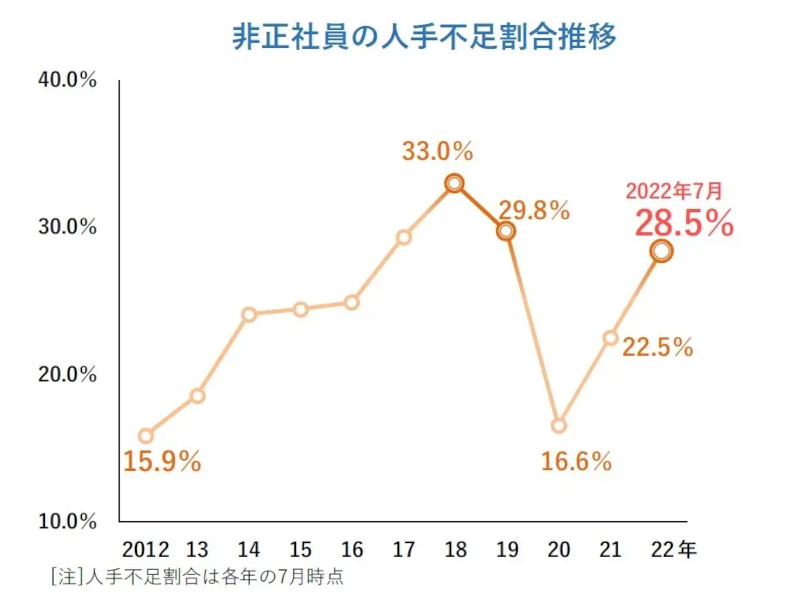 Lack of full-time "Ryokan/Hotel" employees tops the list. Approaching the peak before the corona disaster
In terms of labor shortage ratio of full-time employees by industry, "Ryokan/Hotel" was in the lead with 66.7%. The survey period took place during the summer holiday season, despite the coronavirus pandemic, and two out of three companies felt a labor shortage. "Information Services", "Construction" and "Maintenance/Safety/Inspection" followed.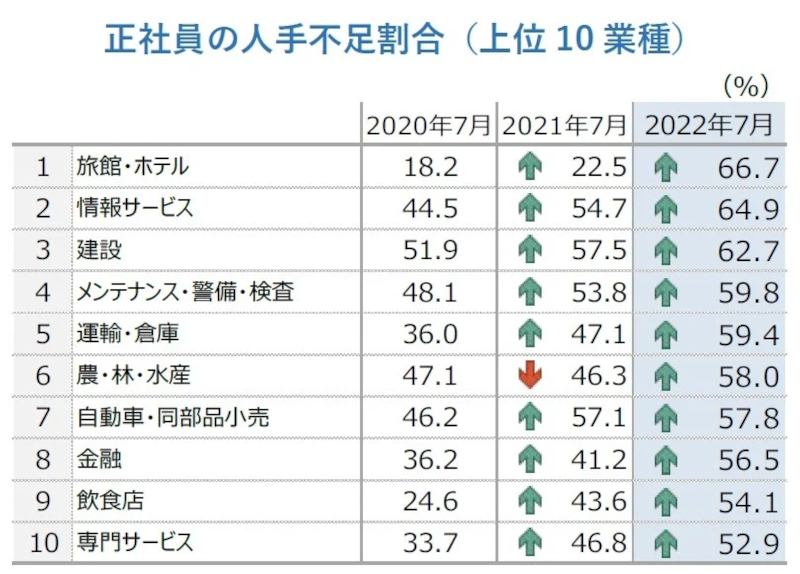 This is the first time in 2 years and 1 month that "Ryokan/Hotel" has led the sector since June 2019 (73.1%), which was the highest on record.
More than 70% of companies with a shortage of regular employees are implementing "wage increases"
Looking at wage increase trends in companies facing a shortage of full-time employees, 41.7% of companies will increase wages by 2% or more in fiscal year 2022, or 4, 8 percentage points more than the overall rate (36.9%).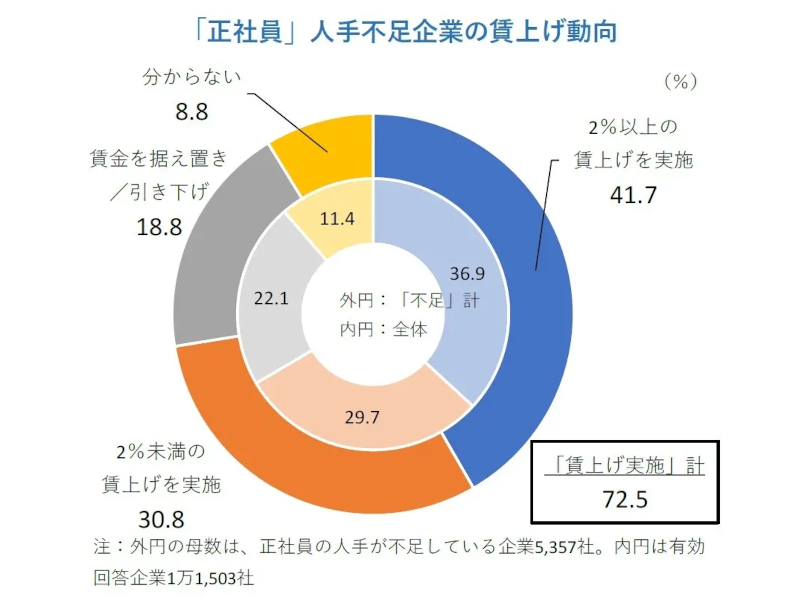 Additionally, 30.8% of companies said they would increase wages by less than 2%, exceeding 30%.
The companies said: "With the weak yen, more companies are returning to Japan and there are concerns about labor shortages. Excellent human resources should be engaged in research and development for the new technologies and new products. Demonstrate their capabilities and produce results. If we do this, we can raise wages without any problem" (Automotive Parts Manufacturing, Mie Prefecture).