Derived from the main performance of the musical "Touken Ranbu", the latest work in the series "Tsurumaru Kuninaga Daikurikara Double Knight Departure ~Spring Breeze Tori~", which develops different performance styles with a small number of swordsmen. This time, the story of two swordsmen, Tsurumaru Kuninaga and Okurikara, who are old acquaintances of the Date family, is depicted. The familiar 2-part composition of the musical part and the live part is warm and exciting "Twins Departure". Let's replay the Genepro audience special pattern held at the Tennozu Galaxy Theater on Sunday, August 7, 2022.
Ever since the ban on "Tsurumaru Kuninaga Daikurikara: Equestrian Double Start" was lifted, rumors and speculation have abounded about what the scene will be like. When the curtain for the first part opens, it's exactly the musical. A two-hour long historical drama has been prepared, focusing on the past events of the two Touken Danshi.
The beginning is the judge's order to Tsurumaru Kuninaga. "I want you to accompany Okurikara and see how Date Masamune is targeted by the Retrograde Army of Time. However, I was unable to specify when he will appear." ——So the first place I went was Bontenmaru, who suffered from smallpox as a child and lost sight in his right eye. It's nice to see him writing a letter to Okurakara after asking the monk Koya Souto, who acts as his adoptive parent, to see his training, saying, 'Looks like you never got a letter.' ' Guided by Soutsu's teachings on the 'navel curve', Part 2 records the turning points in Date Masamune's life as he becomes a strong, kind, wise, generous person and a person with a heart that appreciates the taste and its human power. By touching it, you will continue to watch it with a sense of distance without being attached or separated.
Many letters still exist today, from small daily news to songs and poems in the blow of "emergency". Using what was left as a clue, the "letter as a weapon" is stated as a key element. "A brush is as good as a sword" and "a piece of paper can be tied to history". At the same time, according to the teaching that Furitsumoji is the essence of experiential communication, there are many scenes in which Tsurumaru Kuninaga and Okurikara take the place of historical figures and recreate historical events in sketches, giving viewers the opportunity to experience the There are also a variety of theatrical ideas that create a story with a small number of people while imagining the big historical facts surrounding Date Masamune.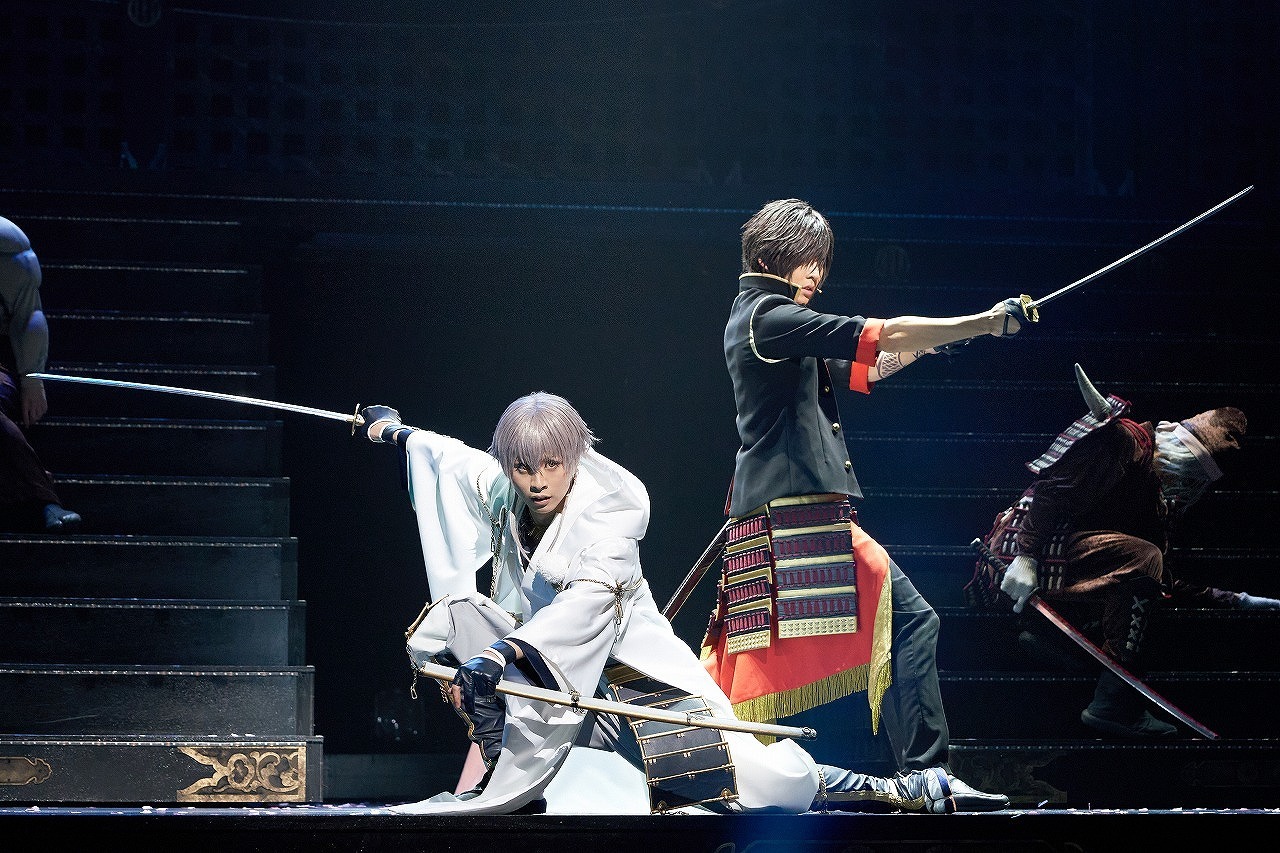 (C) NITRO PLUS, EXNOA LLC/"Touken Ranbu" Music Production Committee
The scrim curtain covered in cleverly written characters dancing across the front of the stage resembles a temporal stratum made of words. A variety of musical numbers…and the fashionable world view unfolding in front of you is also a good match for Date Masamune's smart appearance. Throughout, I was able to appreciate the work with the sensation of coming into contact with small pieces of great quality.
At the start, Tsurumaru Kuninaga pulls out his sword to greet Okurakara, who has just emerged as a baby bird. The sight of him mercilessly leading a defensive opponent is a bit different from Tsurumaru Kuninaga's mu sword that I've seen drifting around so far. Raimu Okamiya, who plays the character, skillfully rewinds time and embodies "former Tsurumaru Kuninaga" using the character resolve cultivated in the Toumu series. It was full of power and persuasion that made me think, 'There's Tsurumaru Kuninaga, who seems to have a philosophical outlook after going through many events, including this series.'
On the other hand, Okurakara is irritated by the overwhelming difference in combat power due to the manifestation time difference, and tries to gain strength recklessly. Date Masamune's life, which follows his own growth in parallel, is full of suggestions, and coupled with "something" that can be felt from the words and actions of Tsurumaru Kuninaga, who is always close to him, plays the process of gradual establishment of his identity Teru Makishima carefully expresses. Through restrained dramatization, he clearly conveyed Okurakara's way of being, who dislikes useless knowledge. In the second half, at the very last minute of the battle, I can't forget the moment when Okurikara, whom I've seen in Tou-Myu so far, went wild, as if his strength level had risen several levels to once.
Kojiro Oka plays Masamune Date, the mainstay of the story. From the freshness of a young man when he first appeared, to the fact that he gradually aged and gained weight and depth as a samurai through repeated battles, he played lively until his middle age. where he dreamed and hoped for Spain across the sea. With her soft, elegant and clear singing voice, she gently grabs the hearts of the audience and never lets go. That's exactly what it means to have flowers.
Mitsuru Karahashi directed the story as storyteller. In the first half, he preached his teachings with his stoic and witty attitude as Souto Koya, and in the second half, he devoted himself to joyful Latin music as Tsunenaga Hasekura, who supports the Date Masamune's new dream. He played two different kinds of roles as lovable characters, sprinkling a wonderful theatrical spice on each end.
The scenes where Oka and Karahashi's voices overlap are also very rich and have a dramatic feel full of adult charm. The contrast between young Okamiya and Makishima, and the balance of the four was exquisite.
There is a must-see destination in the story, but the journey to get there is up to you. The world is connected to one by the sky and the sea. The beauty that makes you proud to always be able to sail, and the happiness that comes from the sound of gospel. The afterglow towards the final was overflowing with joie de vivre.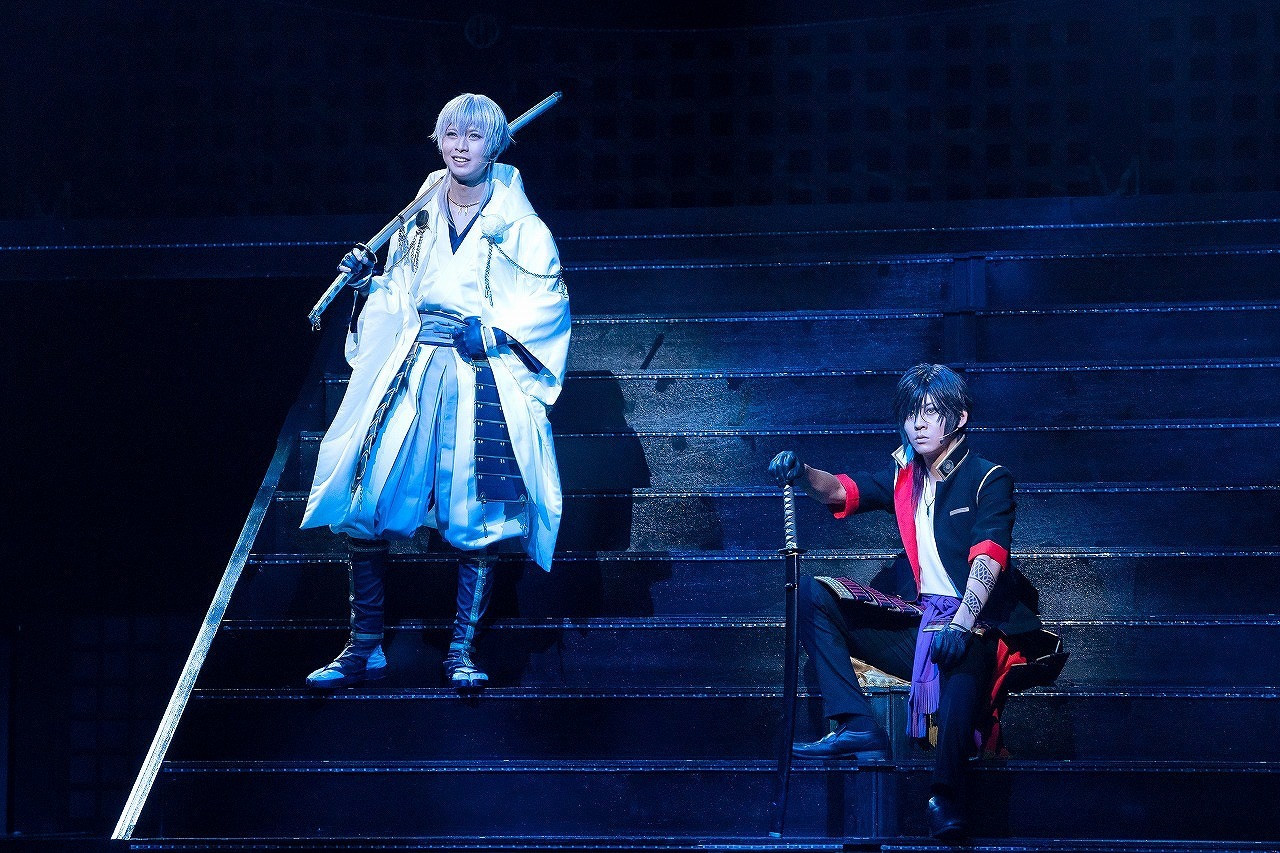 (C) NITRO PLUS, EXNOA LLC/"Touken Ranbu" Music Production Committee
In his previous work, "Paraiso of the Quiet Sea", which depicts the fierce mission of the Shimabara rebellion, Tsurumaru Kuninaga and Daisuke, who trusted their backs with an undeniable sense of confidence, sometimes held hands and jumped into battle from Kurikara. For audiences familiar with these two characters, this work is an answer, and it has luxurious content with many new discoveries and unexpected portrayals. That's why the main theme song "Touken Ranbu" sung by Tsurumaru Kuninaga & Okurikara is also outstanding! It's an anthem that can only be found here, with only two links and two imprints.
And in the long-awaited part 2, while Masamune Date and Tsunenaga Hasekura's surprise and voluminous performance with sword fights and rapping will liven up the room, Tsurumaru Kuninaga and Okurakara will be live non-stop! From stylish numbers to slightly mischievous and unexpected numbers, sing and dance with fervor. The vocals, which have different bass voices with different tastes, are quite comfortable, and the sweet unison sound and harmony are unique. It was a scene where you could enjoy 120% of Tsurumaru Kuninaga and Okurikara's complete entertainment spirit, a groove that could only be created by Tsurumaru Kuninaga and Okurikara.
Interview and text = Yuka Yokozawa
Performance Information
Musical "Touken Ranbu" Tsurumaru Kuninaga Daikurikara Departure of two riders ~Spring Breeze Tori~※end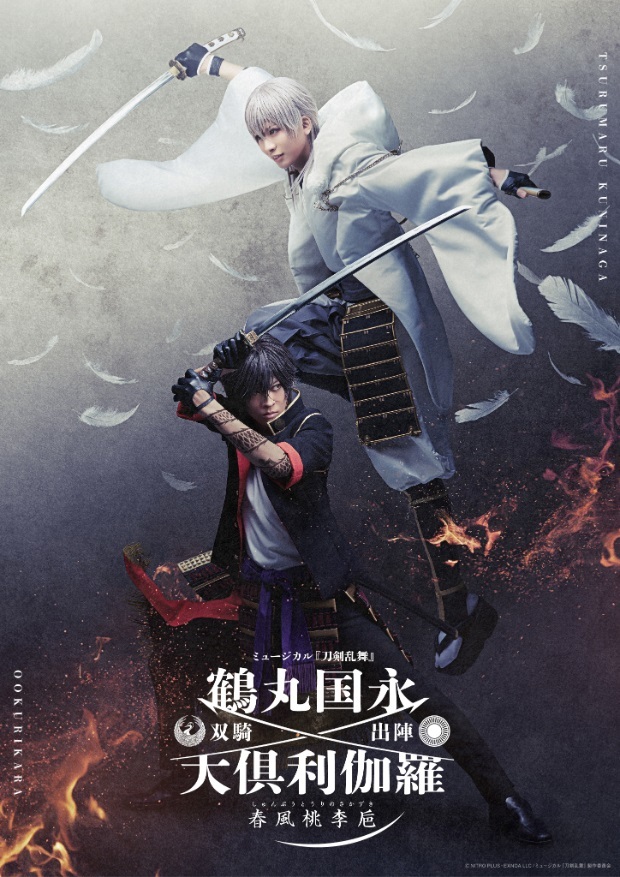 Time/Location:
<Tokyo Performance> From August 7 (Sunday) to August 14 (Sunday), 2022 Tennozu Galaxy Theater
August 20 (Saturday)-September 4 (Sunday) 2022 Sankei Hall Breeze
Draft: From "Touken Ranbu -ONLINE-" (DMM GAMES/NITRO PLUS)
Directed by Isamu Kayano
Screenplay: Sayaka Asai, Yuki Shirakawa, Aoi Tsukimori
Script supervisor: Einoshin Ito
Music Director: Yoshizumi
Choreography/Direction: TETSUHARU
With :
The role of Tsurumaru Kuninaga Okamiya Raimu
Teru Makishima as Okurikara
Kojiro Oka
Mitsuru Karahashi
Shigeki Goto (dual cast)
Yuki Tanaka (dual cast)
Daisuke Iwasaki Kazuki Muranaka Tomokazu Kanuka Masaki Konosu Ryoji Sugiyama Seiichi Sato Keisuke Chiba
Yasuhiro Date Koji Shirahama Yu Chidai Kirai Kawashima Hisho Suzuki
Organizer: Production Committee of the Musical "Touken Ranbu"
(Agence Nelke Planning Nitroplus DMM GAMES Euclid)

Official website of the musical "Touken Ranbu":https://musical-toukenranbu.jp/
Musical "Touken Ranbu" Official Twitter: @musical_touken
(C) NITRO PLUS, EXNOA LLC/"Touken Ranbu" Music Production Committee