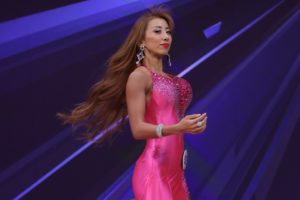 On September 4 (Sunday), the "2022 All Japan Fit Model Championships" sponsored by Japan Bodybuilding and Fitness Federation (JBBF) was held at Honda no Mori Hall in Ishikawa. This contest is a new category of elegant femininity, which started in earnest last year at JBBF, and features two types of costumes, one-piece swimsuits and long evening dresses. Judging will be made in three categories: 158cm and under, 163cm and over and over 163cm.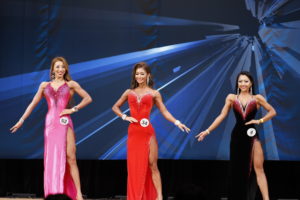 This year, a total of 58 people divided into three classes registered. Karen Michibata, model and triathlete, also competed in the over 163cm class and passed the pickup exam, but did not make it to the finals, which was eventually narrowed down to 6 people. In the same class, Japanese bikini fitness queen Yuri Yasui won the championship and also won the overall championship. Last year, she lost to Maiko Tagami, who won the under 163cm category, and missed out on the championship. The appearance of attracting the audience in a pink evening dress, which is rare for Yasui so far, was impressive.
Yasui, who won the fit model top, continues to win 6 straight wins in the main bikini fitness category and 2 straight wins in combination. They are expected to stand on the stage with the aim of winning back-to-back victories at the "All Japan Championship" to be held on September 18 (Sunday) and September 19 (Monday/Holiday).
[Galerie de photos]2022 All Japan Fit Model Championships to be held on Sunday, September 4
Phrase and photo by Yudai Kimura
♥ Related Articles