The "2022 ZEN-NOH CUP TOP32 Fukuoka Tournament", a table tennis event specially sponsored by JA ZEN-NOH, will be held on September 3 and 4 at Axion Fukuoka in Fukuoka City, Fukuoka Prefecture. In the men's and women's singles finals held on the afternoon of the 4th, women's Mima Ito (Starts) and men's Shunsuke Togami (Meiji University) won.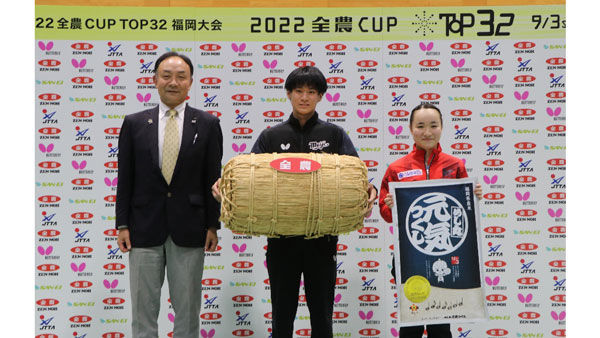 Male champion Togami (center) and female champion Ito (left) receive a bag of rice.
JA ZEN-NOH presented each of the winners with a bale (60 kg) of Genki Tsukushi rice grown in Fukuoka Prefecture, the host city, as an additional prize. When Togami received a life-size bag of rice from Yukio Ikeda, an adviser to JA Zen-noh, warm applause erupted from the table tennis fans on hand.
At the Zen-noh booth in the hall, ZEN-NOH had "Kasumi Ishikawa Curry" and "Kasumi Ishikawa Beef Bowl" supervised by Kasumi Ishikawa, who belongs to ZEN-NOH, as well as agricultural products and processed products from the prefecture from Fukuoka. sell goods. The ZEN-NOH booth was crowded with visitors who came to buy products to commemorate their visit. The new "Kasumi Ishikawa Curry" package will be available for general sale from the end of September.
In addition, at the ZEN-NOH booth, there will be a photo spot reproducing the scene where Ishikawa is eating a delicious salad at the end of the ZEN-NOH commercial "Tsunagaru Shokudo" released in March. At the photo spot, everyone from children to adults could be seen snapping photos with a smile.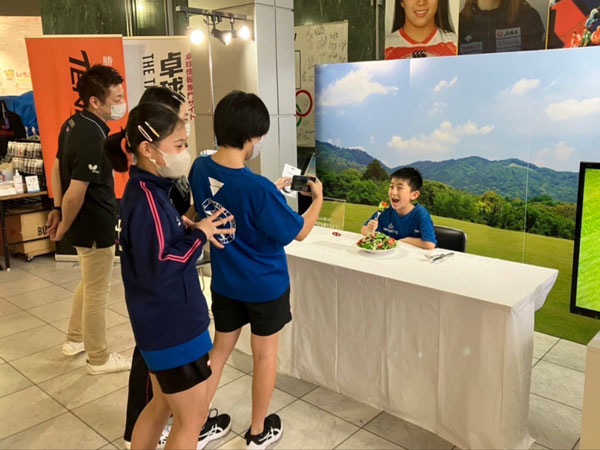 Visitors taking photos at photo spots
◎Results of the conference
<Men>
Winner: Shunsuke Togami (Meiji University)
Finalist: Tomokazu Harimoto (IMG)
3rd place: Daito Shinozuka (Aichi Institute of Technology)

Winner: Mima Ito (Starter)
Finalist: Kasumi Ishikawa (ZEN-NOH)
3rd place: Hina Hayata (Nippon Life Insurance)