The Asahi Shimbun organizes an event to explore a sustainable land and society.Asahi Earth Conference 2022will be held for four days from October 16-19 in a hybrid of online and real-world locations. The "intellectual giants" of the world will come together, discuss how the world should be ahead of the game, and come up with a prescription for a better society.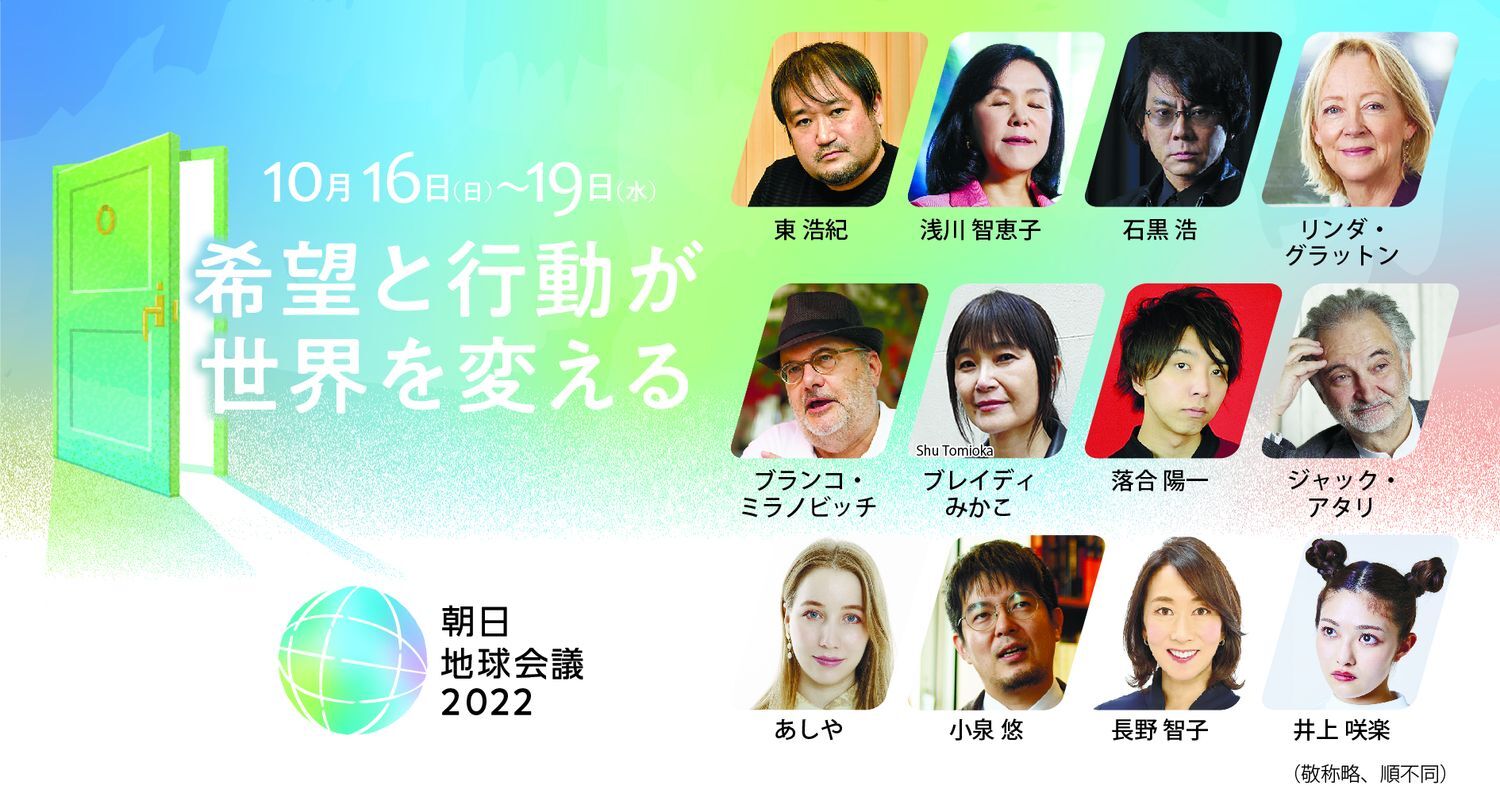 "Asahi Earth Conference 2022"
The main theme of the 7th Asahi World Conference 2022 is "Hope and Action Change the World". More than 20 sessions will be delivered online under the four sub-themes "The World to Read with Intellectual Giants", "Working on the SDGs", "Taking the Global Environment Seriously" and "For the Future of Children ". For the first time in three years, sessions will be organized with the general public invited to the site.
In the session "Post-Corona Era Interpreted by Global Knowledge", Mr. Branko Milanovic (economist), Mr. Emmanuel Todd (anthropologist and historian), Mr. Jack Atari (economist and thinker) and Marcus Gabriel (full professor of philosophy at University of Bonn) will take center stage as the "intellectual giants" of the world. As the invasion of Ukraine marks a turning point in the international order, an Asahi Shimbun reporter interviews four leading Western experts on what is needed to rebuild a vibrant capitalist system and protect democracy.
On DAY 1, an interview video will be projected at the place where the public is invited, and the discussion will be deepened through a round table (composed of two parts) coordinated by Ms. Tomoko Nagano. On DAY 3, Mr. Yuval Noah Harari, an Israeli historian known for his world bestsellers such as "Sapiens" and "Homo Deus", took the stage. A dialogue with robotics engineer Hiroshi Ishiguro, professor at Osaka University, on the theme "Technology and society: how to create the future".
On DAY 4, Lynda Gratton, author of "LIFE SHIFT", a leading researcher on the longevity society and professor of management at London Business School, took the stage and talked about "how to walk in an era of 100 years of life". as a reporter for Asahi Shimbun. I plan to speak with
Participation in this event is free, butDedicated websiteThe application of is required. If you register, you can ask the speakers questions in advance, and the latest information will be provided by email.