On September 7, Trend Micro released the "Ransomware Attack Global Survey 2022". In ransomware attacks, threats that go beyond data encryption and disclosure have been found to be rampant.
The survey was conducted from May to June among IT decision makers from 26 countries and regions, including Japan, and received responses from 2,958 people (203 from Japan).
First, the percentage of respondents who experienced a ransomware attack in the past three years was the lowest, at 66.9% overall and 34.5% in Japan. Overall, 41.7% and 11.4% in Japan paid money at the striker's request.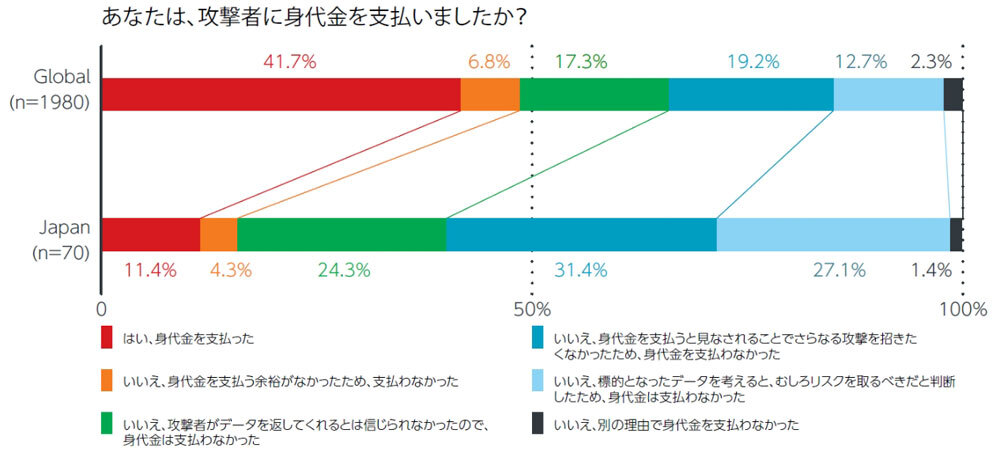 Ransom payment status (Source: Trend Micro)
The company explains that there are four types of threats in ransomware attacks: data encryption, information disclosure, denial of service (DoS), and contact with customers and victim stakeholders. Attackers combine these four threats to perform "double threats" and "quadruple threats".
Experience of dual threats was 74.3% overall and 67.1% in Japan. The experience of "quadruple threats" reached 67.0% overall and 74.3% in Japan, indicating that Japan suffers from more types of threats more than the global average.
Quadruple Intimidation damage status (Source: Trend Micro)
According to Trend Micro, "double and quadruple blackmail not only exposes your company's information but also that of your customers and business partners, and also leads to loss of credibility because your customers and business partners are informed that you have been hit by a ransomware". In the worst case, it is feared that this could lead to medium and long-term business risks, such as business interruption or bankruptcy, withdrawal from the supply chain and loss of customers.
Additionally, the types of information the attackers stole from the victim organization to threaten to release were "technology" at 61.1% (42.6% in Japan), "customers" at 58.1 % (55.3% in Japan) and "employees". was 51.5% (44.7%) and "business partner/supply chain" was 47.2% (46.8%).
Regarding the timing of an attack detection, 62.5% (69.5% in Japan) chose "ransomware execution", 53.3% (50.7% in Japan) said "executing an attack tool (such as sending ransomware)" and "two 49.1% (41.4% id.) for "severe intimidation (encryption and disclosure)", 42.2% (34.5% id.) for "initial intrusion", 30.8% (30.8% id.) for "lateral movement" 23.6%).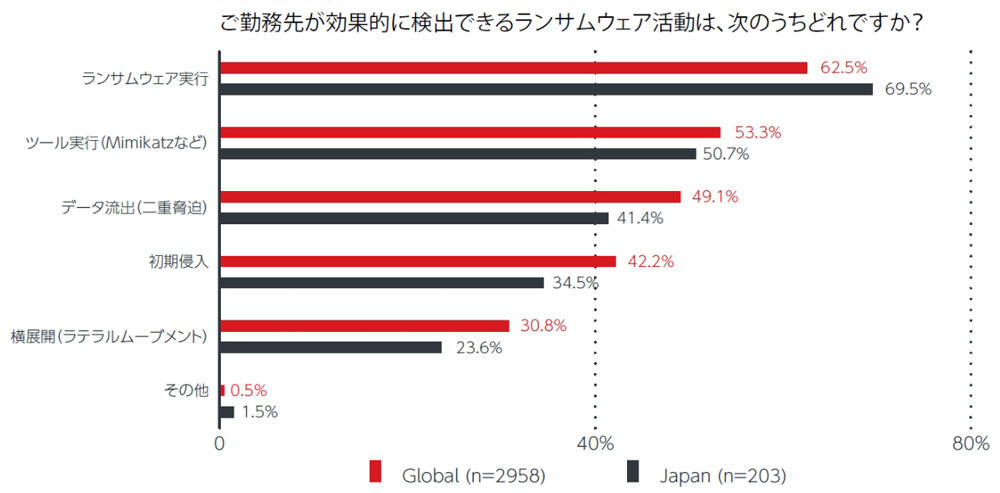 Top attack process detection status (Source: Trend Micro)
Read ZDNet Japan's articles every morning via email (free registration)