On September 13, Amazon Japan announced the 11th generation "Kindle" and "Kindle Kids Model".
The price (including tax) is 10,980 yen for the Kindle model with ads, 12,980 yen for the model without ads, and 12,980 yen for the children's model. From the same day,Amazon.co.jp" to begin accepting reservations. Expected shipping from October 12.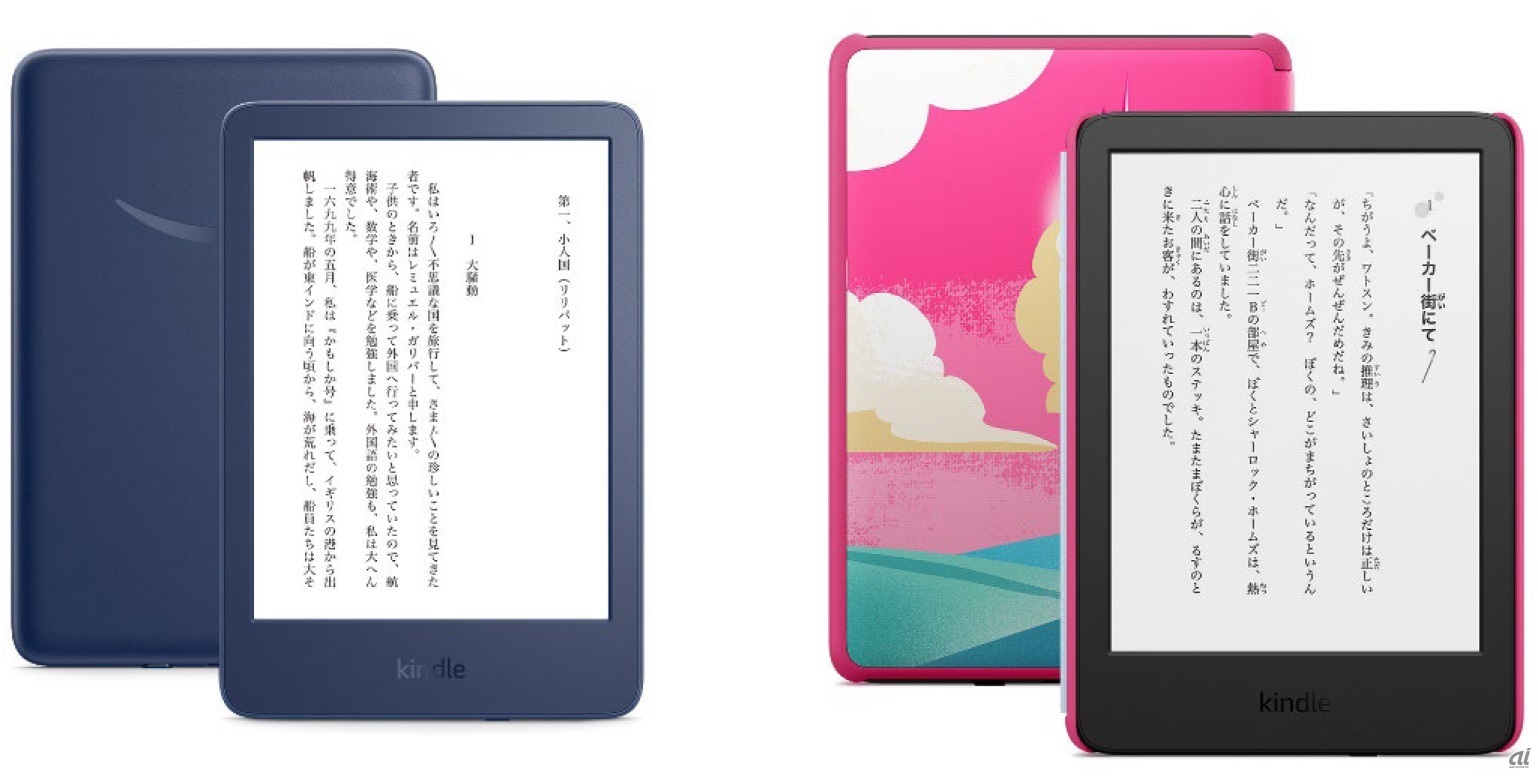 The next-gen Kindle comes in two colors, black and denim, with a size of 157.8mm long x 108.6mm wide x 8.0mm thick and weighs 158g. While adopting a lighter and more compact design, it is equipped with a 6-inch screen with a resolution of 300ppi, which is about three times that of the previous generation model, the 10th generation released in 2019.
In addition, the storage is 16 GB, which is double that of the previous model. The battery can last up to 6 weeks and has a USB Type-C port that allows high-speed charging.
In addition to the front light and brightness adjustment features that continue from the previous model, the Kindle entry model is newly equipped with a dark mode. Like the other Kindle series, it's said to be able to comfortably read outdoors in direct sunlight or in a darkened room with reduced brightness.
The next-generation Kindle Kids model is only available in black. Three protective covers are available: Space Whale, Unicorn Valley and Submarine. 2-year limited warranty and unlimited access to over 1,000 children's booksAmazon Kids+will be granted at no additional cost for one year.
In addition, children's libraries such as "Iwanami Shonen Bunko", "Kadokawa Tsubasa Bunko", "Kodansha Aoi Tori Bunko", "Shueisha Mirai Bunko", "Shogakukan Junior Bunko", masterpieces of literature for children, learning content such as history and science are also available. From October 1, Shueisha will release 'Theatrical version Kimetsu no Yaiba Mugen Train Edition Novelize Mirai Bunko Version', 'Theatrical Version ONE PIECE STAMPEDE Novelize Mirai Bunko Version', 'My Hero Academia THE MOVIE-Two Heroes- Novelize Mirai Bunko" It is said that the release of "version" will also start.
The same day,About the Amazon Blog", published "Enriching the reading experience. A look back at Amazon's 10 years of "walking with book lovers" in conjunction with the release of the next-generation Kindle series. It showcases the evolution of the Kindle e-book reader and Fire tablet, which have been released in Japan for 10 years, in the last 10 years.