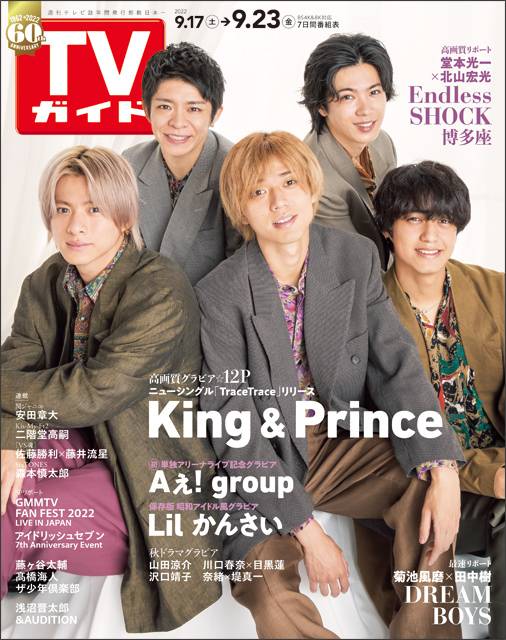 TV Guide 9/23 presents King & Prince, who will be releasing their 10th single "TraceTrace" on September 14! We will deliver a big volume of 12 pages, including the cover, the introductory gravure and the interview, where the beauty of the five people stands out.
For the cover photo, everyone who showed a sweet smile surrounded by pure white cloth. When deciding where to sit, Yuta Jinguji said, "Kishi (Yuta)-kun, come here a little longer," and Ren Nagase said, "(Takahashi) Kaito, can you come here? » paddy field.
The engraving inside shows two models of solo cups for each person, highlighting the beauty of King & Prince.
A calm expression, a fragile expression, a masculine expression… He showed us a variety of faces! Regardless of facial expressions and poses, the five look like mannequins. Please enjoy its beauty.
In the solo interview, I asked the members who "wanted to hunt for a day" after Trace's "TraceTrace" = "tracking".
Additionally, during the special lecture, everyone spoke about their thoughts, focusing on the highlights and points of attention for the 10th single "TraceTrace." Also, as part of Nagase's featured drama "New Nobunaga Koki ~Classmate is a Sengoku Busho~" (Nippon Television = Yomiuri Television), the theme will be "If you compare yourself to a great man?" A rare response (!?)! The blur and the tsukkomi are interesting, and it turned into a very exciting panel discussion.
King & Prince's beautiful engraving, solo interviews and panel discussions are full of gaps and charms, so I hope you enjoy them in the magazine.
(Fukuda)