TeamT5, a Taiwanese security threat intelligence firm, announced on September 14 that it had completed Series A funding for several Japanese companies and was making a large-scale entry into the Japanese market. The company has strengths in cyber threats in the Northeast Asia region and has expressed a desire to contribute to cyber defense through Japan-Taiwan cooperation.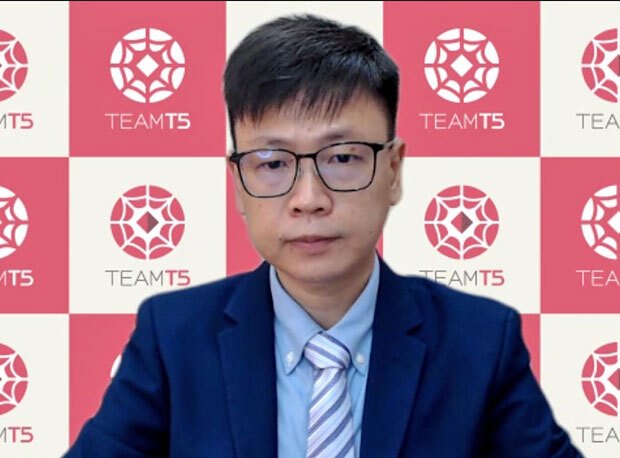 Mr. Songting Tsai, CEO of TeamT5
In a press conference on the same day, Founder and CEO Tsai Songting said, "Geopolitical risks such as Russia's military invasion of Ukraine and China's pressure on Taiwan have increased, and cyber A new era of Cold War has arrived.Taiwan has been exposed to cyber threats for the past 20 years, and now Japan, together with Taiwan, must be at the forefront of countering them.
With more than 20 years of industry experience, Mr. Tsai served as a cybersecurity advisor to the Taiwanese government, as well as the director of Taiwan's security engineering competition "HITCOM" until 2021, representing the industry. of Taiwan's cybersecurity. which does.
According to Tsai, the company has been monitoring, analyzing and investigating cyberattack groups operating in Northeast Asia for more than a decade and has responded to more than 500 serious incidents. In addition to providing client organizations with intelligence based on advanced knowledge, know-how and analytical capabilities related to these cyber threats, we also offer products and solutions such as Threat Sonar, a threat hunting platform that detects and analyzes traces of attack activities, and a threat monitoring and analysis platform. We also provide professional services and training services that provide these resources.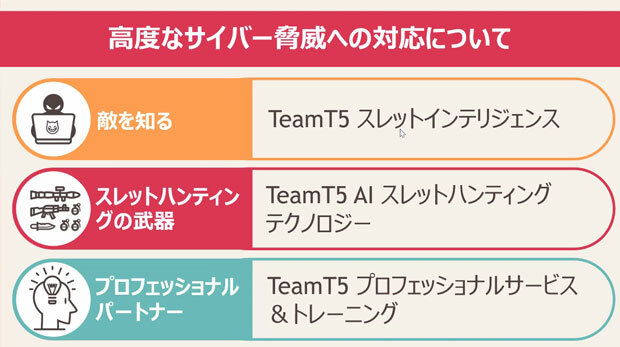 The TeamT5 solution
The JAFCO Group plays a central role in the large-scale entry into Japan, with the help of ITOCHU Corporation and Macnica. In response to this, the company established a Japanese company "TeamT5 Co., Ltd." in Tokyo. In addition to commercial activities, we will form a team of about ten experts who will be in charge of threat analysis in Japan, and we plan to fully develop our activity in Japan. According to Tsai, more than 120 experts are in charge of threat analysis in Taipei, where he is based, and constantly monitor more than 100 attack groups that are believed to be state-sponsored by China, North Korea, Russia and others. says that
Mr. Naohiro Furuya, Director of Tokyo, Business Development Division of JAFCO Group, said of the company's large-scale entry, "As geopolitical risks become apparent in Northeast Asia, we expect a lot of TeamT5, which has excellent knowledge of advanced cyber threats in this region, I am," commented. Teppei Tsuchikawa, IT Affairs Section 1 Manager, IT Affairs Department, ITOCHU Corporation, said, "The environment around management and information systems has changed and they are becoming vulnerable. I believe the T5 team has knowledge of the region and world-class technology."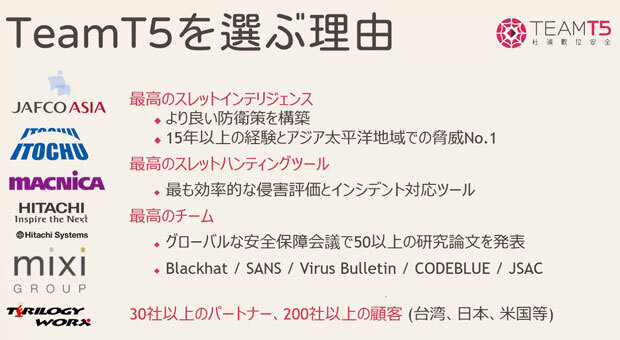 Approval to enter Japan
Additionally, Macnica had been handling TeamT5 solutions as a distributor in Japan since before this expansion. We deal with many security solutions and strongly recognize the importance of intelligence, so we would like to deepen our efforts with TeamT5 and contribute to security in Japan. "
Regarding the future business strategy in Japan, Mr. Tsai said (1) the recruitment of sales and threat analysts, (2) the development of new partners and customers and the strengthening of customer support closely linked to Japan, and ( 3) the provision of technologies and solutions. .- and hopes to acquire more than 50 major customers within two years.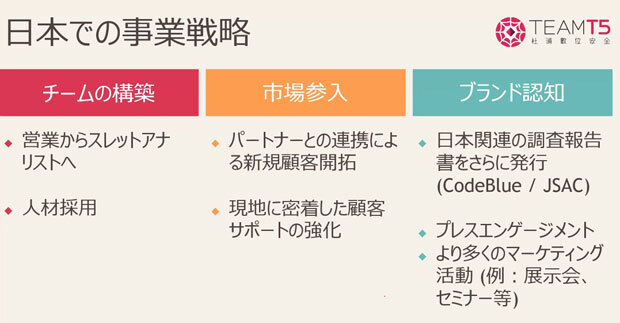 Business strategy in Japan
Read ZDNet Japan's articles every morning via email (free registration)