On September 15, 2022, Konami Digital Entertainment announced that "Momotaro Electric Railway Education Edition ~ Japan is interesting! ~announced. The official release is scheduled for winter 2022, and a teaser site will be open for educators starting September 15.
Click here to buy "Momotaro Electric Railway ~ Showa Heisei Reiwa is also a classic! ~" (Switch) (Amazon.co.jp)
Momotetsu that you can play at school! "Momotaro Electric Railway Education Edition"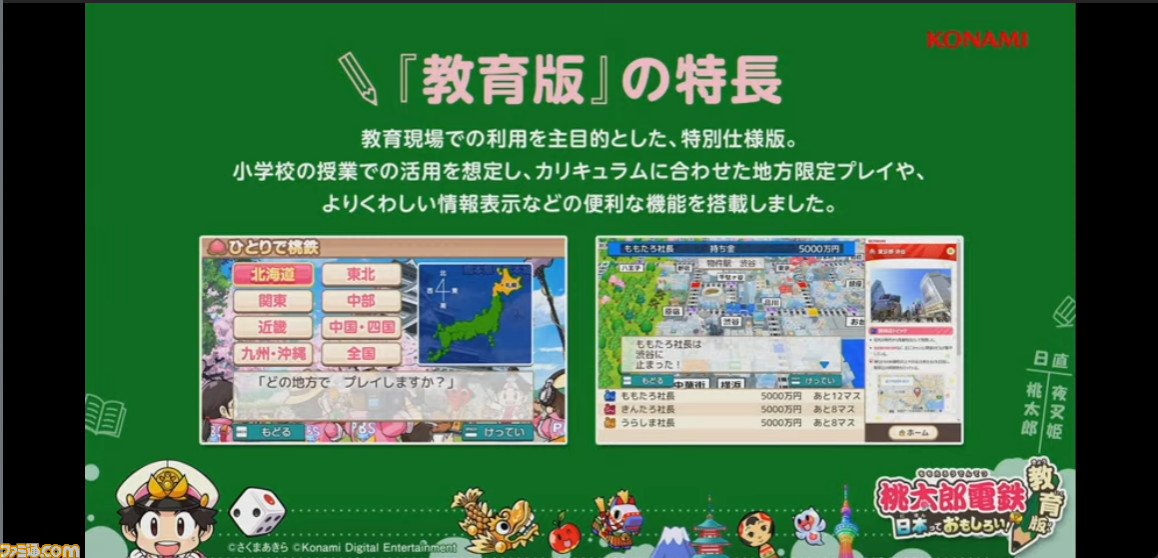 "The educational version of Momotaro Dentetsu – Japan is interesting! ~" is the "Momotaro Electric Railway ~ Showa Heisei Reiwa is also a classic! ~]with an added learning function for primary education, and can be played on the browser of a PC or tablet. It has functions such as adjusting play time according to class time, regional limited play, and displaying detailed information needed for learning.
Currently, there is no general sale, and it will be available in schools and educational institutions by applying through the designated site released today.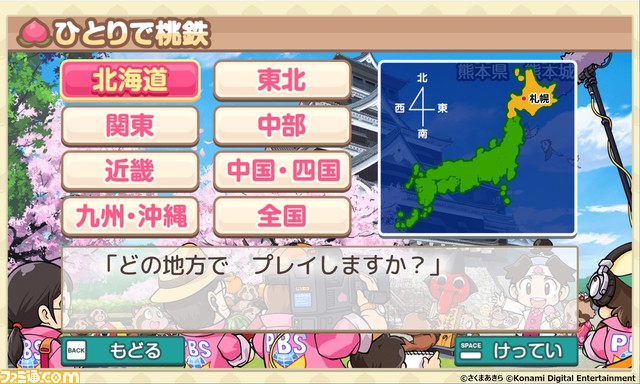 In this work, a mode making it possible to limit the surface of play by area according to the program of the class appeared. Players can travel and play the game only in the region of their choice, allowing for focused learning. In addition, it is possible to set a short period that can be completed according to the class time.
 
Also, on the game screen, information about the station you stopped at is displayed on the right side. While playing, players can learn about the nature and features and information of the area. Also, by hovering over a "landmark" on the map, you can check information about that landmark.
It's not hidden like the "hot springs" in previous works, but there are marks where you can check, so let's keep looking for landmarks.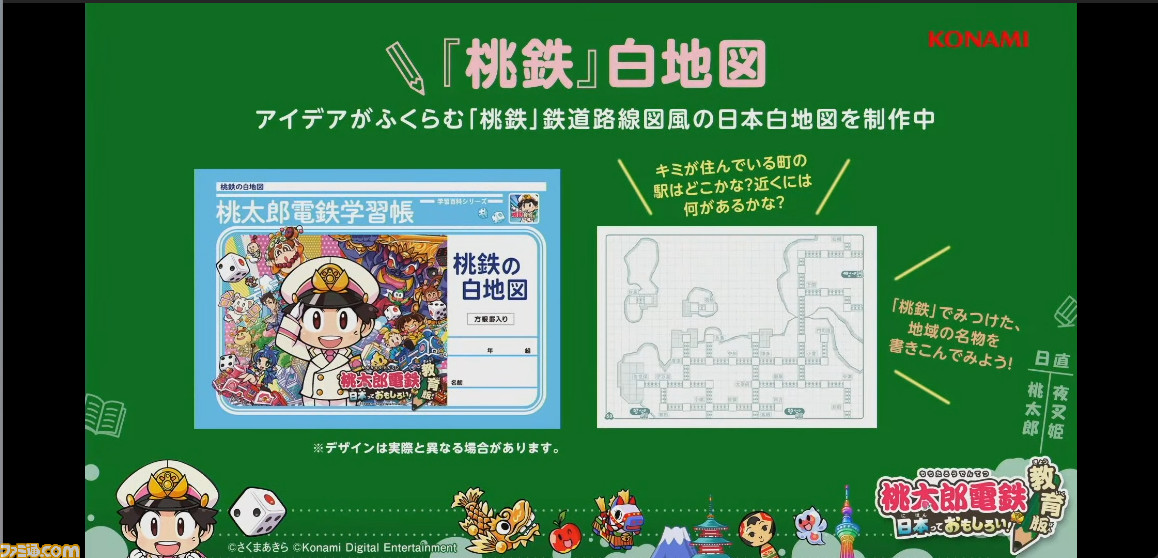 Momotaro's Electric Railway Study Book "Momotetsu's Blank Map" was also announced. A blank card and a note to write are provided. Noriaki Okamura, Senior Producer of Konami Digital Entertainment, suggested to Showa Note that it would be nice to have a notebook where students could write down their achievements from the games. Although done for now for this announcement, future development is undecided.
"The educational version of Momotaro Dentetsu – Japan is interesting! In addition to the announcement of "~", comments from Akira Sakuma, General Manager of Momotaro Electric Railway, were also announced.
from a long time ago,fishing iron]can be used as school teaching materials?
I thought, I did.
Of this time"Education EditionI feel like my longtime dream has come true.
Everyone, get a perfect grade in geography and annoy the teachers.
We received feedback from Mr. Okamura, the producer who was on stage, and Mr. Masato, who served as an advisor for this work.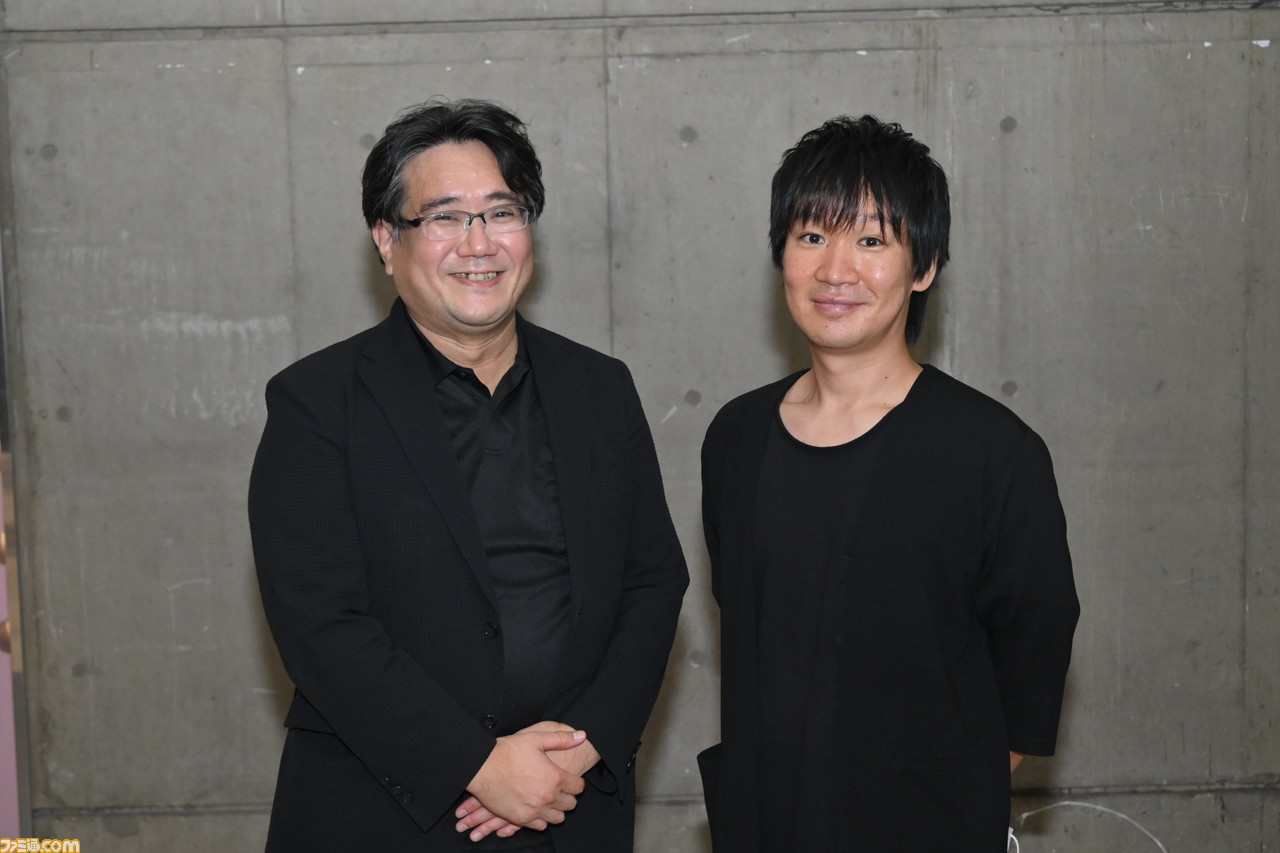 Mr. Noriaki Okamura(Noriaki Okamura)
Belongs to Konami Digital Entertainment. The role of leading the production team as the overall producer of this work. He also worked as a producer on Super Bomberman R. (Pictured left, Okamura in text)
Hidekazu Masato(Hideaki Shoto)
Primary school teacher. The "Global Teacher Prize 2019", which is called "the Nobel Prize of the world of education", is recognized for its efforts in education that removes barriers of subjects such as English, programming and design using ICT (information and communication technologies). Selected in the top 10. Served as an advisor for this project. (Right photo, correct head in text)
――Please let us know if you intend to provide educational institutions free of charge.
OkamuraWe want as many people as possible to experience "Momotetsu", so we decided to offer it for free. I would like you to use this software in various ways in the field of education.
headOne of the educational issues Japan faces is regional disparity in education. Therefore, I think that by making it free, urban children and rural children will be able to benefit from it by eliminating an economic disparity.
――How would you like it to be used in an educational setting?
headOf course, I would like you to use it for social time. Also, since it's a game that naturally sparks conversations, I think it would be a good idea to use it as an icebreaker for students who haven't yet opened up to each other in the new semester. .
――I heard that you played the game as a test in class and asked the students to discuss their ideas for making the game even better.
OkamuraThe students researched the regions where they actually played the game and gave their opinion, for example: "I would like you to present these special products". The Momotaro Electric Railway Study Book I introduced this time, "Momotetsu's White Card", was born from the idea that it would be nice to have such a thing after taking this course .
――Do you have any guesses about the school year that will use this game?
headIn terms of learning geography, the main target is 4th and 5th grade elementary students, but if you use it as an icebreaker, you can use it in middle school and lower grades.
–Could you say one last thing?
OkamuraThis time we presented "Momotaro Electric Railway Education Edition", I plan to use "Momotetsu" to make various efforts. I hope to continue to bring you more new things.
headEntertainment has a charm that catches people's hearts. Its use in the world of education is now attracting a lot of attention. This is called "edutainment (entertainment + education)". "Momotaro Electric Railway" is truly a pioneer in edutainment entertainment. Through "Momotaro Dentetsu Educational Edition", I hope that the total number of "smiles" and "I learned before I knew it" will increase, and the edutainment entertainment will spread further.