NTT Docomo announced on September 15 that it will end the "d card GOLD 10% discount benefit (maximum 300 points)" for "ahamo".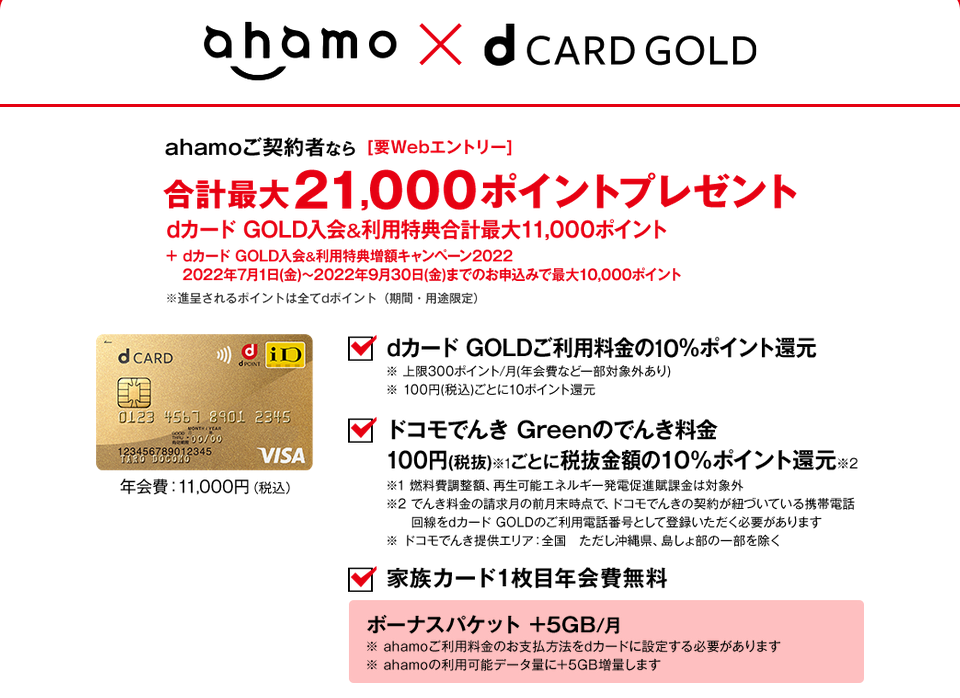 The same benefit will be granted every month for every 100 yen (including tax) used for d CARD GOLD, if ahamo subscriber registers for "d CARD GOLD" and registers ahamo's mobile phone number as the mobile phone used for d CARD OR Up to 300 points, 10% of d points will be presented. The end date is December 31.
However, if you join CARD GOLD before October 31 and your sign-up date falls in any month from January to October, you can continue to enjoy the same benefits for up to 13 months from the month to which your registration date belongs. being received. For example, if you join in January, the same benefits will continue to be used from January 2022 to January 2023.
New perks with changed conditions and limits begin
After the end of the same benefit, from January 1, 2023 to March 31, 2024, a new " 10% discount campaign for using the d GOLD card (up to 500 points)" (tentative name) is in effect.
The new advantages are intended for ahamo and d card GOLD members and subscribers of the "ahamo large" option. In addition, it is necessary to register ahamo's mobile number as the mobile number used for d card GOLD.
The advantage is that you will receive 10% d points for every 100 yen (tax included) spent on your monthly d CARD GOLD. The maximum monthly gift is 500 points (the amount for using the card (taxes included) is 5,000 yen), and the ahamo usage fee (including the usage fee for the ahamo large portion option ) are also subject to the card usage amount. d POINTS will be awarded three months after the card is used.
In addition, if ahamo's mobile number is registered as the mobile number used for d CARD or d CARD GOLD, and the payment for ahamo is set to d CARD or d CARD GOLD, the monthly data amount will be increase.d'carte bonus package benefits (+1GB per month for dcarte, +5GB per month for dcarte GOLD) will continue to be provided.