Serious violation of the ethics of broadcasting "Tokyo Olympics as seen by Naomi Kawase"
"The fact that money was given and received during anti-Olympic demonstrations is not true.falsificationhas been diffused. It's not just a mistake, it's a big mistake."
The Broadcast Ethics Review Board (Chairman Ikuko Komachiya) of the Broadcast Ethics and Program Improvement Organization (BPO) announced on September 9 that NHK's BS documentary program "Tokyo Olympics Seen by Naomi Kawase" (broadcast on December 26, 2021). ), issued a written opinion concluding that "there has been a serious breach of broadcasting ethics".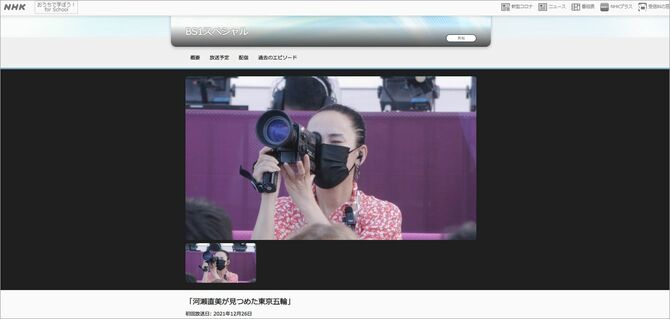 The investigative committee pointed out that "there were issues at every stage of interviewing, editing, reviewing and investigating" regarding the program. NHK's broadcast guidelines "were found to be in violation.
With respect to the remarks made by the man on the broadcast in question, it was determined that the responsible producer clearly acknowledged that the remarks were about a protest other than the anti-Olympics protests, and edited the remarks accordingly. replacing them with remarks about anti-Olympic protests. While stating, "It's unclear if there was any malicious intent to undermine the value of the demo," he said, "It's not just a matter of misplaced subtitles," strongly suggesting it was a "deliberate fabrication". .
BPO found guilty of "suspicion of fabrication"
Moreover, "the participants in the demonstration were 'mobilized' with 'money' and gave the impression that they lacked the independence to repeat the demands of the organisers. protest, but the protest as a whole", referring to the seriousness of the social impact of the "subtitles incident". He harshly criticized the handful of internal NHK investigations that ignored these points.