By Orla Guerin, BBC News, Izyum, Ukraine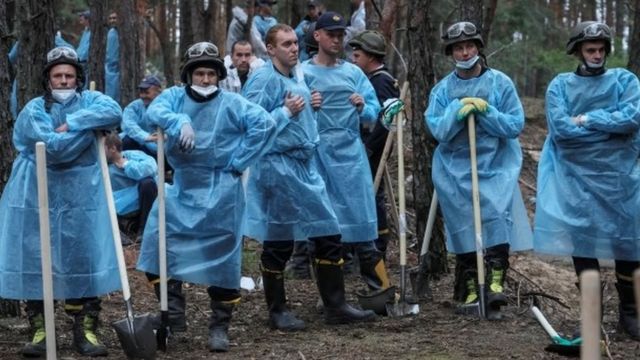 A pine forest on the outskirts of Izyum in eastern Ukraine smelled like death. A large number of corpses were exhumed there.
This land is about to reveal its secrets. Ukrainian authorities believe war crimes have been committed and are determined to document the evidence.
A hundred Ukrainian paramedics wearing blue plastic blankets dig a makeshift grave with shovels in the ground.
They are trying to determine the cause of death of hundreds of people buried in the woods on the outskirts of Izyum. The town was recently liberated by advancing Ukrainian forces.
Izyum, which was overrun by Russian forces in April, was an important military base from which Russian forces could resupply goods transported from the east.
The exhumation of the bodies took place in almost total silence under the eyes of the police and the prosecutors. One officer put his hands on his head and another walked away.
Kharkiv oblast prosecutor Oleksandr Ilyenkov said there was no doubt that war crimes had been committed there.
"The first grave contains the remains of a civilian woman with a rope around her neck, showing signs of torture," the prosecutor told the BBC.
Almost everyone there was killed by Russian soldiers.
"Some were killed, some were tortured, some were killed by Russian airstrikes and artillery."
Ukraine was determined to expose this disturbing spectacle to the world. A group of journalists from foreign media were brought to the scene and witnessed.
The mass grave was next to an existing cemetery. Row after row of graves with crude wooden crosses.
Only a few had names, and most only had numbers. These bodies were buried here by Russian military order during the period of Russian military rule.
Ukrainian police said 445 new graves had been discovered at the site, some containing multiple bodies. It is not known how they all died. Most of them are civilians, including women and children.
Prosecutors said some were killed by Russian artillery fire, while others were killed in a Russian airstrike on an apartment complex that killed 47 people in March.
Authorities said around 20 soldiers were found in a grave, some with their hands tied and nooses around their necks. The exhumed body of a man in military uniform was placed in a white body bag.
Security forces cleared the bodies while the bodies were exhumed. Explosions could be heard sporadically in the distance.
Hruyholly, 72, came to the burial site today to view the grave of his wife, Ludmila. Ludmila died on March 7 during heavy shelling in Ijoum.
He first had to bury it in his garden, but he buried it elsewhere in August. And again, Mr. Ludmilla's body was exhumed.
Only now, after the withdrawal of Russian troops, Ukraine can carry out a detailed investigation there and determine the number of victims left by the occupying forces.
A woman who lives on the other side of the forest told us that Russian troops had kept the inhabitants away from the cemetery.
A local man, Maksim, came to the burial site and asked reporters to document the torture he had suffered.
Maksim said he was arrested by Russian forces earlier this month and released by Ukrainian forces who arrived in Izyum on the 10th.
He then showed us the handcuff marks on his wrists and said he had been electrocuted.
Ukrainian presidential adviser Mikhail Podlyak told the BBC that evidence of torture had been found in some areas recently taken over by Ukrainian forces.
"We saw people with no light, no food, no water, no right to justice, and terribly scared."
Kharkiv prosecutor Ilyenkov said several similar burial sites had been discovered in areas recently recaptured by Ukrainian forces.
National Security Council (NSC) spokesman John Kirby said the report on the Izyum cemetery was 'horrifying' but 'consistent with the corruption and brutality of the war the Russian military is waging against Ukraine," he said.
"We will continue to actively support national and international efforts to document war crimes and atrocities committed by Russian forces in Ukraine and to identify and hold Russians accountable."
French President Emmanuel Macron condemned "in the strongest terms" the "atrocities" that had been committed in Igeum.
Nigel Povoas, a British lawyer specializing in the prosecution and investigation of serious cross-border crimes and who has just returned from Igeum, told BBC Newshour that the exhumation of the bodies had found evidence of war crimes, said that he wouldn't be surprised.
"We believe the first signs at this stage, although at a very early stage, include bodies that have died from shelling, malnutrition and lack of medical care," Povoas said. "If the apparently innocent bodies are also examined and the cause of death determined, I believe we will find evidence of torture and executions. This is the same pattern we see in several occupied territories."
Additional Coverage: Alice Davis (BBC News)