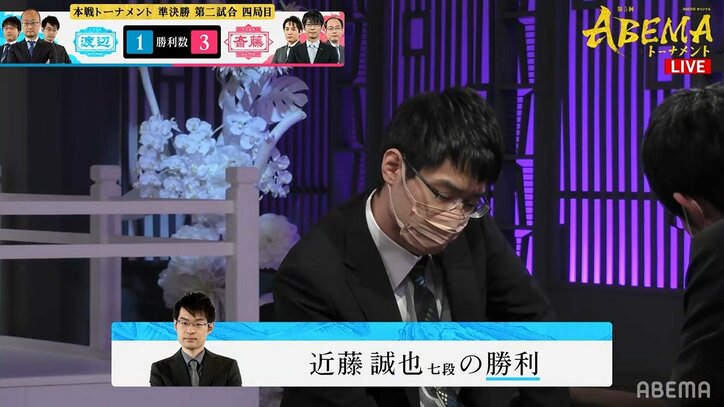 Team Watanabe and Team Saito, the 2nd semi-final match of the 5th ABEMA Tournament, a fast-paced team match in the world of shogi, was broadcast live on September 17. In the fourth station, which Team Saito won three times in a row from the first station, Team Watanabe and Seiya Kondo 7th Dan (26) beat opposing leader Shintaro Saito 8th Dan (29). The long-awaited victory where the team stopped the losing streak and the loss continued as an individual. Will the flow of the game change from here?
[Diffusion]Team Watanabe vs. Team Saito Battle for the Finals
Kondo 7th Dan's first match started with Kakuro. Kondo 7th dan on offense and Saito 8th dan on reception, and when Saito 8th dan arrives with a strong reception, Kondo 7th dan will directly attack without hesitation. It became a battle where the focus was on range of attack.
Kondo 7th Dan, who thoroughly attacked Saito's camp concentrating his forces with Ogoma and Kogoma centered in two lines, managed to break through and took the lead from start to finish. The attack continued to be intense and devoured, and it was pushed to the limit. After the match, Kondo 7th dan said with a smile, "First of all, I'm relieved to have won one. It's kind of impossible, but it was a shogi match where the offense was going to continue, but it was a match. of victory."
Moreover, Nobuyuki Yashiki (50), who acted as a commentator, said: "Kondo 7th dan attacked aggressively. With the rule of Fisher, it is difficult to accept that the offense is linked. As expected, Saito 8th dan can't reverse the flow. . It's become," commented. There is no doubt that Team Watanabe, which was a bit lacking in energy, became a victorious victory.
◆The 5th ABEMA Tournament The 1st and 2nd tournaments will take place in individual competition, and from the 3rd, it will take place in team competition of 3 players. 14 leading shogi players nominated 2 each at the draft meeting. The remaining Team 1 will hold a tournament of shogi players who have not been named, and the top 3 players will form a team and fight in a total of 15 teams. The game is played under Fisher's rule, which has a time limit of 5 minutes and adds 5 seconds for each move. The teams will compete in the qualifying leagues and in the main tournament, with 9 out of 5 wins. The preliminaries are divided into 5 leagues with 3 teams each. The top two teams, a total of 10 teams, will qualify for the main tournament. The winning prize is 10 million yen.
(From ABEMA/Shogi Channel)