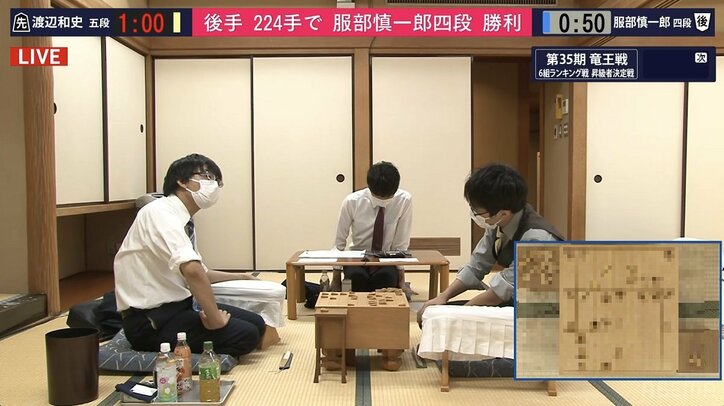 The Ryuo shogi match was held on September 16 and Shinichiro Hattori 4th dan (23) defeated Kazufumi Watanabe 5th dan (27) with 224 moves. In the next match, he will face Asuto Saito 5th Dan (24 years old) for the promotion of 5 groups.
[Vidéo]Hattori 4th Dan defeated Watanabe 5th Dan after a fierce battle
Hattori 4th Dan has won the big battle between talented young players. Yagura's starting point, the main station, progressed to the difficult intermediate stage after a slow opening stage. After the dinner break, the situation is still after entering the night battle. Hattori 4th dan, who blocked the turn angle movement of the first, launched a nice attack, but Watanabe 5th dan escaped with a step that hit the spotter's blind spot. However, Watanabe 5th Dan doesn't have time. Hattori 4th Dan, who had over an hour left on the clock, chased down the first player with a fierce attacking posture. From the offensive and defensive move of driving a tower into the first player's corner header, he put it back in pace with the second player.
For promotion both are the same as it is a game that can never be defeated. An offensive and defensive battle unfolded, and it became a fierce endgame in which offense and defense were swapped for every move. As we approach the final stage, the situation gradually leans towards Hattori 4th Dan. Watanabe 5th dan tried to escape from the top in an effort to get in the ball but he had to give up as he was blocked by the strong second half defense. Great battle with over 200 moves. Hattori, 4th dan, leaned forward to cover the board and kept his focus until the end.
As a result, Hattori 4th Dan took a big step up in promotion. If they win the Saito 5th Dan match in the next round, they will be promoted to Group 5.
Ryuo's 35th Battle will kick off on October 7-8 with Game 7. 8-dan Akihito Hirose (35), who is aiming to return to the throne for the first time in four terms, will challenge Sota Ryuo Fujii (20), the current titleholder and aiming for his first defense.
(From ABEMA/Shogi Channel)