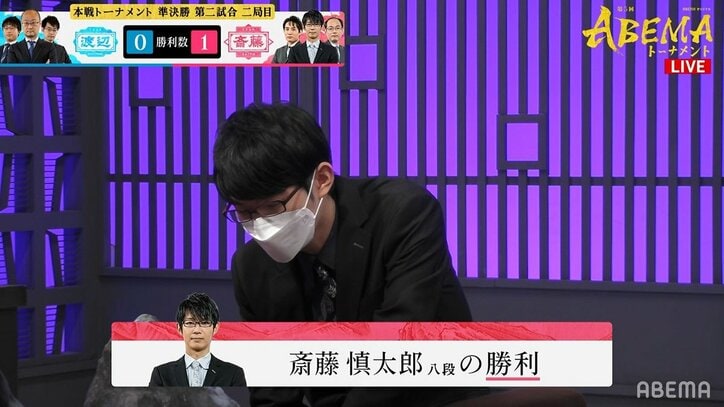 Team Watanabe and Team Saito, the 2nd semi-final match of the 5th ABEMA Tournament, a fast-paced team match in the world of shogi, was broadcast live on September 17. Team Saito won the first station, and in the second station, team leader Shintaro Saito 8th Dan (29) won a comfortable victory over Team Watanabe and Kazufumi Watanabe 5th Dan (27), and the team won two consecutive games.
[Diffusion]Team Watanabe vs. Team Saito Battle for the Finals (Live Stream)
That's what it means to be extremely sharp. Saito 8th Dan, who takes his time and dominates the board with his tenacity and endgame power cultivated in Tsume-Shogi in long matches such as the Class A match, took an aggressive stance in this match. Watanabe 5th dan on the first move left Mino, and Saito 8th dan on the back became Gangi's aii tower, and Saito 8th dan took a clean step with good timing while staying on the ball. I made a dragon in the middle of the stage and took the lead and continued the game. Watanabe 5th dan also tried to come back with his incredible tenacity, but Saito 8th dan did not falter and is went straight into the final stage. It was a clear victory, filled with both strength and speed.
After the match, Saito 8th Dan said, "It was tough until I won. My friends also said that Kazushi Watanabe was tenacious. It wouldn't have been strange for him to be knocked down, but I I'm glad I was able to do without panicking." and a relieved smile. With his first qualification in the final, the leader gave the team even more momentum.
◆The 5th ABEMA Tournament The 1st and 2nd tournaments will take place in individual competition, and from the 3rd, it will take place in team competition of 3 players. 14 leading shogi players nominated 2 each at the draft meeting. The remaining Team 1 will hold a tournament of shogi players who have not been named, and the top 3 players will form a team and fight in a total of 15 teams. The game is played under Fisher's rule, which has a time limit of 5 minutes and adds 5 seconds for each move. The teams will compete in the qualifying leagues and in the main tournament, with 9 out of 5 wins. The preliminaries are divided into 5 leagues with 3 teams each. The top two teams, a total of 10 teams, will qualify for the main tournament. The winning prize is 10 million yen.
(From ABEMA/Shogi Channel)