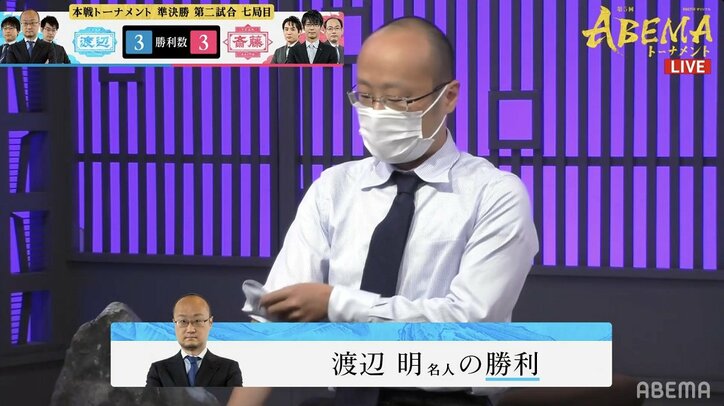 Team Watanabe and Team Saito, the 2nd semi-final match of the 5th ABEMA Tournament, a fast-paced team match in the world of shogi, was broadcast live on September 17. Both teams had 3 wins and 3 losses for the 7th position, and the same card as the 5th position. Akira Watanabe (Ki King, 38) defeated 7th Dan Yuki Sasaki (28) again and advanced to the finals with four straight wins.
[Vidéo]Team Watanabe VS Team Saito Battle for the final
Watanabe Meijin and Sasaki 7th dan who were again on the set from the 5th station to the middle 1st station. Like before and after, Sasaki 7th dan was the first shot, and it was the start of the corner change again. Master Watanabe, who was the second player, took the first step. It's the last lap for me, and I want to pass the baton to my teammates by putting the brakes on the team's victory. On the other hand, Sasaki 7th Dan of Team Saito, who had a bad streak of 3-game winning streak to 3-game losing streak, had a sharp eye saying, "I have no choice but to win. ."
From delicate and difficult pieces to powerful exchanges. Sasaki 7th Dan desperately counterattacked, but when the battle started in earnest, Watanabe Meijin pushed him back immediately and the team won 4 consecutive victories.
Watanabe Meijin, who finished his 'work' with 2 wins and 1 loss after playing 3 games, said: "It went well because I attacked boldly. I want to have it. Whatever I have to do is watch it while eating my lunch."
◆The 5th ABEMA Tournament The 1st and 2nd tournaments will take place in individual competition, and from the 3rd, it will take place in team competition of 3 players. 14 leading shogi players nominated 2 each at the draft meeting. The remaining Team 1 will hold a tournament of shogi players who have not been named, and the top 3 players will form a team and fight in a total of 15 teams. The game is played under Fisher's rule, which has a time limit of 5 minutes and adds 5 seconds for each move. The teams will compete in the qualifying leagues and in the main tournament, with 9 out of 5 wins. The preliminaries are divided into 5 leagues with 3 teams each. The top two teams, a total of 10 teams, will qualify for the main tournament. The winning prize is 10 million yen.
(From ABEMA/Shogi channel)