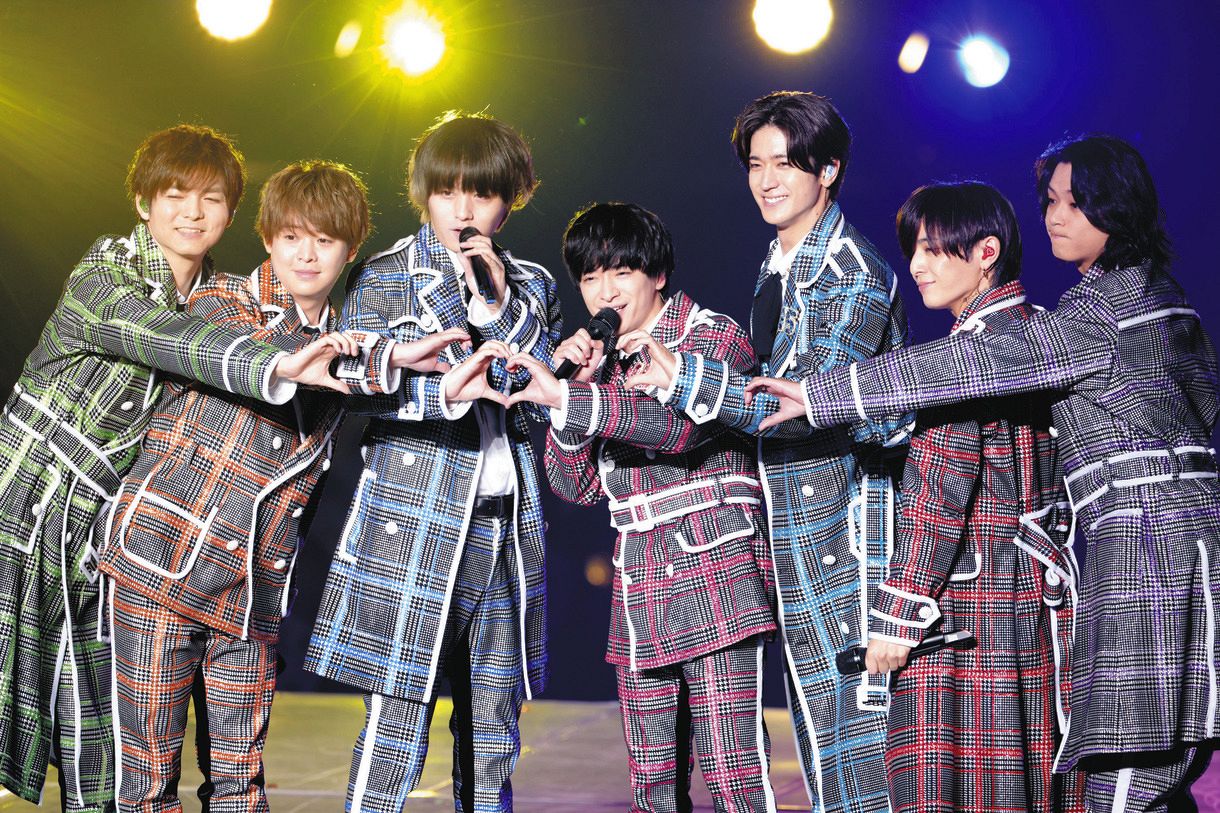 It has been decided that idol group "Hey! Say! JUMP" will hold a four-dome tour to commemorate the 15th anniversary of their debut in Nagoya, Tokyo, Osaka and Fukuoka from December to January next year. The announcement was made on the 18th at the Ariake Arena in Tokyo during the national tour (28 performances in 7 cities) in support of the latest album "FILMUSIC! ". This will be the band's first dome tour in three years. After the daytime performance was announced, the members responded to the interview and talked about their feelings for the 15th anniversary and their excitement for the dome tour.
Hey! Say! JUMP made its debut on November 14, 2007 and will soon celebrate its 15th anniversary. At the live MC that day, Kota Yabu (32) reported, "To wrap up the 15th anniversary (year), we decided to do a dome tour starting in December!"
"I wanted to say it, but I couldn't help it. It's been a long time since the dome tour. I'm so happy you're so happy," said Daiki Arioka (31) with a refreshing smile . The schedule will begin at Bantelin Dome Nagoya on December 17-18, followed by Tokyo Dome on December 29-30 and New Year's Eve next year, Kyocera Dome Osaka on January 7-9, and Fukuoka PayPay Dome on January 14-15. . 10 performances in total are expected to attract 460,000 spectators.
Ryosuke Yamada (29) said, "This year we will be 15 (15th anniversary). We also have a new dome tour. I want to continue making fun memories with everyone, so from now on Hey Say! Please look forward to JUMP too."
Yuuya Takagi (32) said after the announcement on stage, "There were not only fun things, but also a lot of painful things, but I overcame them with the fans. At the dome, the fans gave I want to repay the love I received from you." He again spoke about his ambition, and Yuto Nakajima (29) also tightened his expression, saying, "I would like to express my gratitude to everyone for letting me take a tour of the dome in the form of a party. ." .
Kei Inoo (32) said, "It's been 3 years since we've had an end-of-year and New Year's concert. It's been a long time since we've been able to play at the dome, so I hope it will be a It's our 15th anniversary so we listen to different songs and remember each other but all the fans I want to do a live that reminds me of those days.
Members who have gone through youth together and built. Yabu said sincerely, "I think there are more things we can communicate with each other without having to discuss for a long time." Inoo also said, "Even after turning 30, I still do kyakya in the locker room. It's scary because I've passed the ties," while appealing to their closeness with a wry smile in the paddy field. .
This dome tour is likely to be the culmination of the relationships the members have built over the past 15 years and the band's trajectory.
Ariake Arena was built to host the volleyball and wheelchair basketball events at the Tokyo Olympics last year. It was the first time that an artist from Johnny's gave a concert at the same place.
Yuri Chinen (28), whose father is Takashi Chinen, who won a bronze medal in the men's gymnastics team at the Barcelona Olympics, and who himself interviewed gymnasts during the Games, said: "(I interviewed) not at this location. When I got here today, I remembered, 'Oh, I went to cover the Olympics.' It's a different kind , but I'm really happy to gather so many people like this and bring excitement to Ariake.
Yabu also said, "Looking back, Johnny (the late chairman of Johnny Kitagawa) liked the word 'first', so when I saw the expression 'Johnny is first,' I thought Johnny would have been happy. It's a tour that will immerse you in sentimentality," he said proudly. He also revealed, "Our waiting room is the locker room that the players used to use.
Hey! Say! JUMP member Hikaru Yaotome (31), who suffered from sudden deafness, is currently on hiatus. Yabu said, "I get 'happy birthday' type messages quite often in my group emails. My physical condition is improving little by little." It's a matter of the future), but I'd like to keep watching while consulting Hikaru's doctor. condition."
Arioka said with a smile, "They came to see us at rehearsal, and they came to see the concert yesterday. They said, 'I'm so happy to have such a fun place to go back to.'" Then Chinen added, "'Don't hurt yourself' and 'Don't lose your hair.'
This tour with the latest album "FILMUSIC!" started on 3 at Sekisui Heim Super Arena in Miyagi. The live tour will be the first since last year's arena tour this year, but the tour was canceled in Hokkaido and Saitama due to the spread of the novel coronavirus infection.
The title of the album is a coined word that combines film = FILM and music = MUSIC. Among the songs recorded in the same work, "Bitter Chocolate" provided by singer-songwriter Yuri and "Kimi ga Mita Hikari" presented by Sukima Switch were performed live for the first time.
In addition, the stage was enthusiastically decorated with a total of 27 songs, including the representative songs "Weekender" and "Dreams come true", as well as "15th Anniversary Medley", a collection of songs with killer words that were loved by fans and members.