I can't find a certain file on my "Windows" PC and I feel like I accidentally deleted it. Everyone should have such an experience. But rather than lament and curse, why not try to restore it? If you can't find your files by searching the "Trash", it's time to turn to a handy recovery tool.
Provided by: Shutterstock
Microsoft offers its own command-line restore program, but it's not very user-friendly. Alternatively, you can use free programs such as Recuva or Glarysoft File Recovery Free. Let's see how to use these programs.
How to Recover Deleted Files in Windows 10 or Windows 11
1. Use the Trash
Maybe you used the recycle bin to recover files. Simply put, Windows allocates a small portion of disk space to a hidden system folder known as the Recycle Bin. This puts the deleted file into a pending state instead of actually deleting it. Unless you permanently deleted the file or emptied the Trash, you should be able to restore it.
desktrash can iconLet's Open Like any folder, you can sort files by name, original location, date, and other criteria. You can also search for files by name. Once you find the file you want to restore, right-click on it and select "Restore".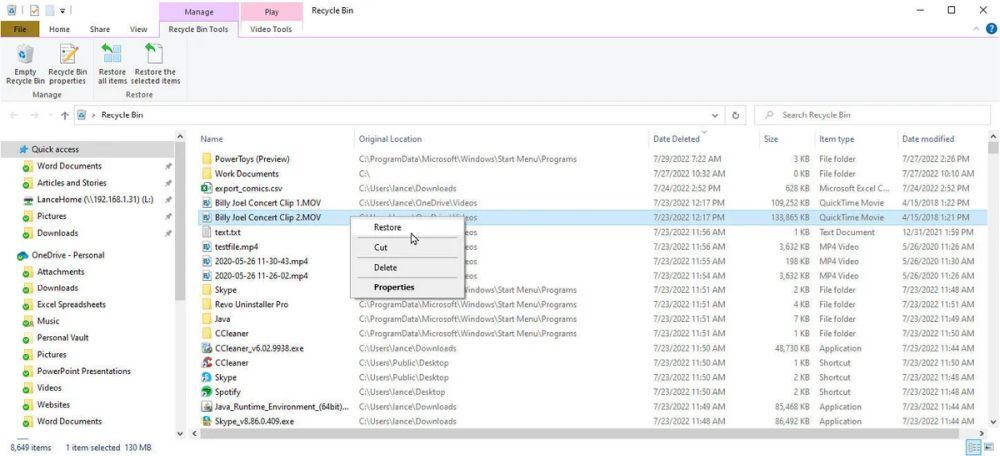 Courtesy of Lance Whitney/ZDNET
What to do if files are permanently deleted in Windows 10 or 11
If you've permanently deleted a file (which you can do by pressing Shift-Delete) or emptied the entire Trash, it's harder, but not impossible, to restore the file. In many cases, recovery depends on how quickly you react after deletion.
Deleting a file does not physically delete the data from disk. Disk space used by this file will be treated as space available to the operating system. This means that the clusters allocated for this file can be overwritten by new data. If you rush to restore, your files may still be intact and can be restored. But the longer you wait to restore, the more likely it is that most or all of a group of files will be overwritten, and the less likely you'll be able to fully restore it.
Use Microsoft's "Windows File Recovery"
Microsoft offers a free command-line utility that attempts to recover deleted files in Windows 10 and 11. Known as Windows File Recovery, the tool works with mechanical hard drives, SSDs, USB drives, and cards memory. It can also attempt to restore files in two different modes: standard and extended.
1. Visit Windows File Recovery Page
「Microsoft StoreDownload and install Windows File Recovery from Launching the shortcut opens a command prompt with a basic syntax example. Microsoft announced how to use Windows File RecoverySupport Pagealso offers. You absolutely must read it before using it.
2. Enter the appropriate command
After that, you need to enter the command, restore destination, restore mode, name or location of one or more deleted files.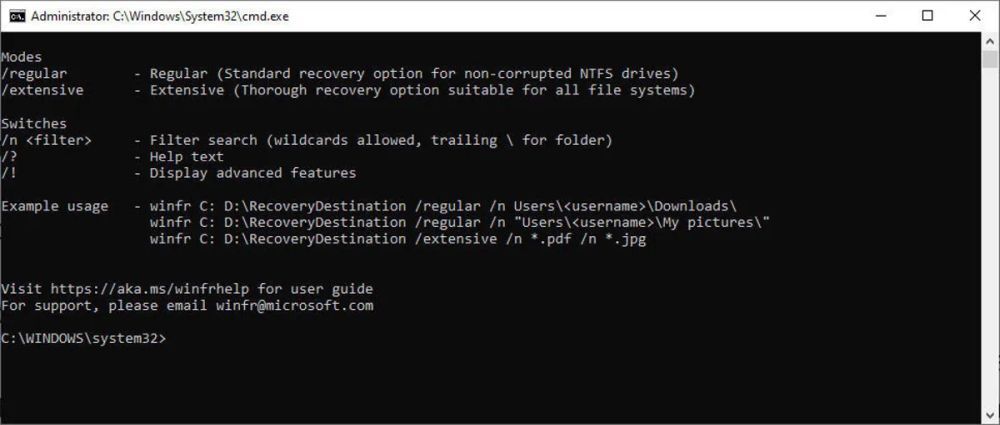 Courtesy of Lance Whitney/ZDNET