"Bunshun Online" reported that Yuto Sakamoto, a giant, impregnated an unfamous woman and demanded an abortion. Regarding Sakamoto, who has been the Giants' captain since 2015, baseball commentator Tatsuro Hirooka said, "I can't feel the pride and dedication as a traditional Giants captain." (1st)
*This article was written by Tatsuro Hirooka7 Reasons Giants Can't Win](Gentosha) has been reissued.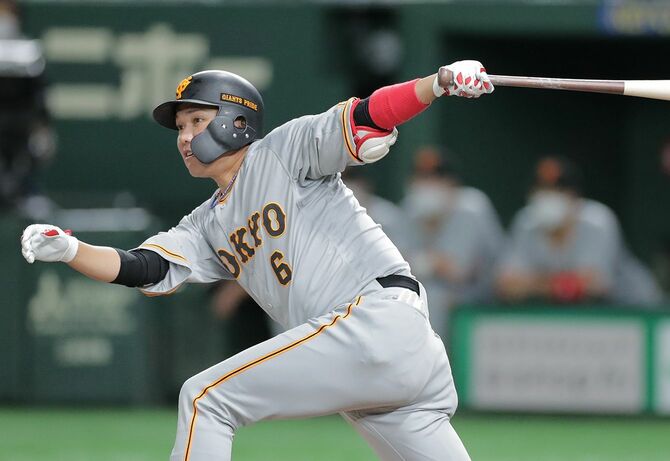 Photo = Jiji Press Photo
Yuto Sakamoto, a giant who achieves a double in the first round = July 5, 2022, Tokyo Dome
It is natural for giants to become number one in Japan every year.
I also turned 90 in my baseball life. I was a giant when I was active, so even though it's been almost 40 years since I retired from Seibu, I still get a lot of letters saying, "I'm a giants fan."
At the Giants where I spent my days playing, the goal was to win the Japan Series. It's natural for giants to become number one in Japan every year, and I received such an education.
So when they won the league and were selected to compete in the Japan Series, Matsutaro Shoriki, the first owner and founder of Nippon Professional Baseball, brought the coaches and players together at the Nippon Television guesthouse for the congratulate on the pennant race. didn't say "well done" unless I became number one in Japan. It was the tradition of Japan's first professional baseball team, the Giants.
The tradition is to protect and pass on what the people who made the team believed: "Baseball should be like this, and teams should be like this. My opinion is tough on Giants because that's the essence of baseball and what Giants should be.
But today's players are corrupt because they live the way they do now. If you make a mistake on the synthetic turf, or if you catch a grounder coming off the side, try spinning and throwing it. Basically, you can kick your feet up and throw it, but because you throw it with spin, the target first baseman wobbles and throws the wrong pitch.
Fans will delight in the great plays, but it's a natural world for professionals to perform difficult plays. It's a big mistake to think, "I played well, so please congratulate me.
Giants players must be a role model for the baseball world
Mr. Soriki left behind the words: "The Giants should be the leaders of the baseball world. The etiquette of wearing a suit and tie while traveling also became a model for other teams.
Now, however, they often train in T-shirts, wear hats and chat on the floor. Among them, Hiroyuki Nakajima, transferred from Orix in 2019, is always smiling and chatting with the runners at first base. He's not a Giants player.
Today's giants win by bringing together players who are active elsewhere with money. Hayato Sakamoto and Kazuma Okamoto are regular regulars, and the rest are DIY utility players who shield everywhere and pinch hitters and pinch runners. This is not the giant army Mr. Soriki made. The reason I'm strict with giants is because I'm pathetic as an OB.
Other teams are still imitating the giants. Camping, the second-best hitter theory, the succession of machine guns throwing a left-handed pitcher into a left-handed hitter, and the erratic pitching method of turning to the first side of base after the pitch is complete will all spill over into the world of baseball as soon as the giants imitate the big leagues. And what's worse is that, for better or worse, everyone from student baseball players to young baseball players are imitating professional baseball.
The giant army was once said to rule the world of baseball. Leader should be a role model for everyone in baseball, from professional baseball to baseball boys. Rather than chasing the victory in front of you by betting on popularity and financial power, I would like you to bring back the "good baseball".