We would like to inform you that Katare Toyama has decided to retire Director Ishizaki.
Moreover, we will also inform you that the current head coach, Michiharu Odagiri, will be appointed as the successor coach.
About director Ishizaki's retirement
We would like to make the following important announcements to all of you who support our business and our club.
Regarding Mr. Nobuhiro Ishizaki, who has been leading us as a coach since last season, we would like to inform you that we have decided to step down after the 25th league game against Azul Claro Numazu, which took place the other day. At the same time, we would like to inform you that the current head coach, Michiharu Odagiri, will succeed Mr. Ishizaki.
This change of personnel cannot in any way be ignored with regard to the "return to J2" that the company has set up as a company. Additionally, the issues (details will not be disclosed) seen in football content have not improved significantly since last year. And as the ranking and the number of competitive matches have reached the limit for the return to J2, we have decided to change managers.
On the other hand, he was physically able to fight for 90 minutes, which didn't necessarily lead to a result, but his success in building a solid style will never fade, and I would like to express my greatest gratitude and respect. .
When selecting my successor, I considered the following.
・It's hard to say, but the number of coaches who can participate in the J3 category is limited, including in terms of remuneration.
・For a team that has a mold that has been completed to some extent, the good thing is that they have a prescription to fully heal the problem lesion while continuing.
・ Know the strengths and weaknesses of current players, and be appointed and instructed accordingly.
・Have the flexibility to choose strategies and tactics based on the opposing team's scouting.
・In terms of fighting style, training content, strength and daily management, the direction of the strengthening department is the same.
・ Be a motivator who is good at fostering the rebound mentality.
Based on the above, I decided to go with the current head coach, Mr. Odagiri.
As the director candidate of his hometown of Toyama, Mr. Odagiri believed that he should be appointed after sufficient training. However, despite his inexperience as a manager, I would like to respect his love for the club to the fullest, as he has shown his determination to pick chestnuts from the fire. In this case, whatever the result, I will be responsible for his appointment.
Finally, Mr. Ishizaki, thank you very much for training the team so far. And for the remaining 9 games of Season 1/3, let's push through with Coach Odagiri, team/front, fans and supporters as one and overcome with challenge and cover.
Katare Toyama Co., Ltd.
Shigeo Hidari, President and Managing Director
Directed by Michiharu Otagiri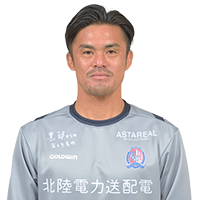 Date of birth September 2, 1978 (44 years old)
Toyama Prefecture
■Player History Nanbu Junior High School → Toyama Daiichi High School → Kyoto Purple Sanga → Ventforet Kofu → Jatco → YKKAP → Katare Toyama[2009年現役引退]
■ History teaching
2010-2011 Katare Toyama U-15 Coach
2012 Coach of Katare Toyama U-18
2013 Katare Toyama U-15 Coach
2014-2015 Katale Toyama U-15 Coach
2016 Katare Toyama U-15 Coach
2017-2018 Katare Toyama Academy Director and U-18 Manager
2019 Best Team Assistant Coach
Best Team Coach 2020
2021~ Head Coach