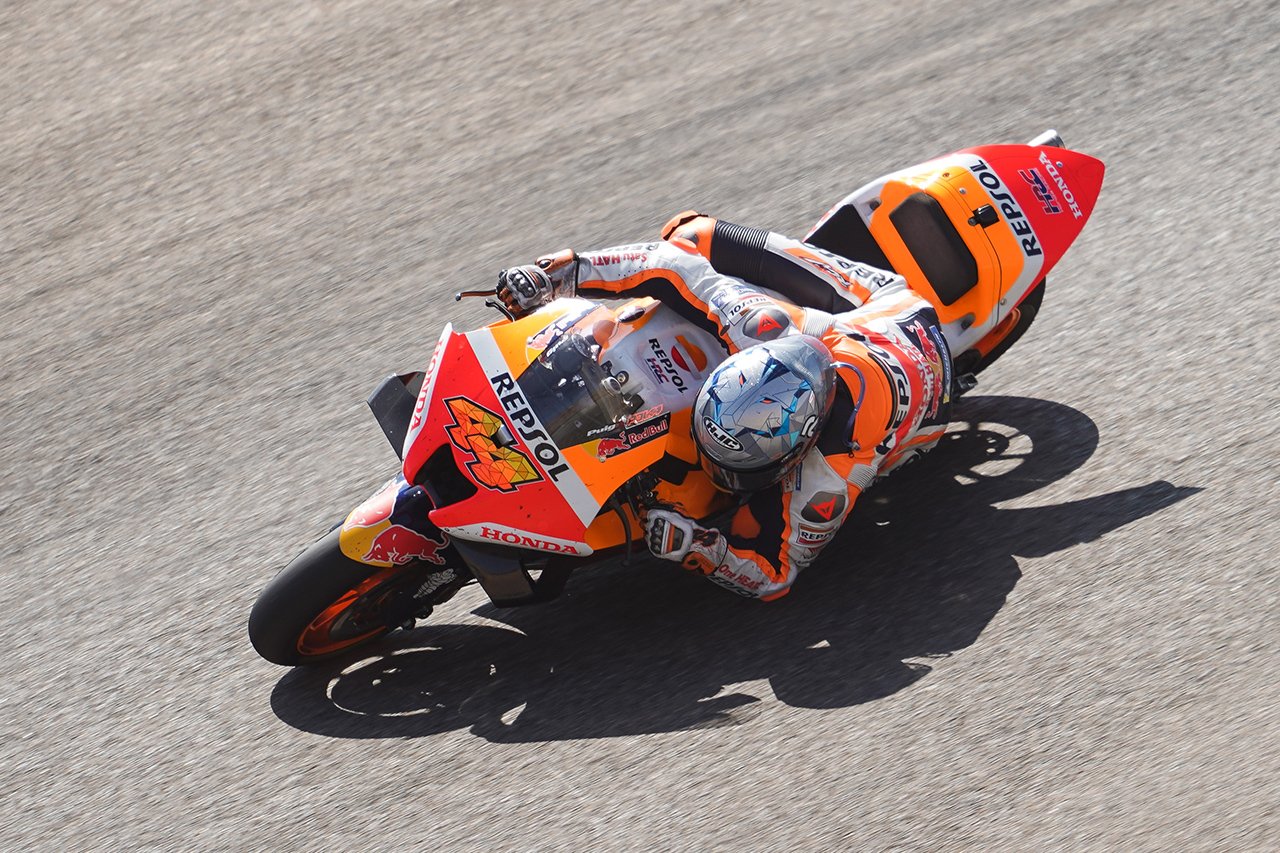 In the 15th round of MotoGP, the GP of Aragon, which was the first race of three consecutive races, Marc Márquez (Repsol Honda Team) collided with Fabio Quartararo (Yamaha) at the 3rd corner of the first lap, causing Quartararo Marquez, who had a problem, then collided with Takaaki Nakagami (LCR Honda IDEMITSU) at turn 7, and Nakagami crashed and retired. Marquez returned to the pits and retired.
Marc Márquez had a great run in free practice and qualifying, but due to the impact of his crash in FP3 he had to qualify from Q1 and start the race from 13th on the grid . However, Marc Márquez, who got off to a great start from the fifth row, moved up to sixth at the first corner. As he chased the top 5, the rear slipped slightly at the start of turn 3, and he had to let go of the accelerator for a moment.
Marc Márquez' machine was also damaged by this impact, and Marc Márquez felt something strange between the 7th and 8th corners and slowed down.
Due to this accident, Pol Espargaro (Repsol Honda Team) and other riders at the back tried to avoid danger, and Marc Márquez returned to the pits after the first lap and decided to retire.
Thus, two Hondas retired on the first lap, but Alex Marquez (LCR Honda Castrol), who contested the race from 17th in qualifying, finished 12th, and Pol Espargaro (Repsol Honda Team) was Takaaki Nakagami. much to avoid falling, he finished in 15th place. The two Honda riders who finished the race scored points.
It was a disappointing result for the Honda team, but they changed their minds and headed to Japan, where they will compete in a series of races.
Alex Marquez (LCR Honda Castrol)
"Today I made a mistake during the warm-up and I had a big crash. Even an hour before the start I still wasn't sure if I could race, but the team made a great job and my machine was ready for the race. You fixed it and I want to thank you. It was not easy. In the race I tried to get a position from the start. I pushed 100% from the start and in front of my hometown fans I tried for fun it wasn't a bad race but it's not what I thought so we have to keep pushing to advance."
Pol Espargaro (Repsol Honda Team)
"Today was a very difficult race. Here it was carbon fiber. I lost time trying to avoid Taka (Nakagami) who fell and it was hard to catch up. This Tonight I'm back home and tomorrow I'm off to Japan. For the Japanese Grand Prix. I'll change my mind. I can't wait to see my Japanese fans again."
Marc Marquez (Repsol Honda Team)
"When the lights went out, my instincts kicked in and I got a really good start, and I was able to fight for the top 5. The problem was that Fabio was right behind me at that At that point, it's normal to be so close at the start of the race and when I turned around I had the misfortune to collide with Fabio. It all started with a strange feeling in turn 5 , I didn't know what was happening, then in turn 7 Nakagami passed me and hooked me, then I activated the rear device. I tried and felt like the rear was locked then all of a sudden the rear seemed to lock and the car went left and I made contact with the hawk "After that contact I went back to the pits. "I decided to give up. It was my fault that his race ended, so I apologized to Taka and his team.
LCR Honda IDEMITSU
"Unfortunately we were unlucky today. I had a good start but on the first lap I crashed. I collided with Marc and crashed. I I'm going to check the scars on my ring finger and my little finger on my right hand. I really appreciate the support from the fans. I'll do my best to recover so I can compete in my home GP in Japan."