Konica Minolta Japan (Konica Minolta) held a briefing on "Spatial Design Business" on September 21. The company launched a work style reform project in 2013, and launched a service to provide other companies with the accumulated knowledge in 2018. Along with the renovation of the head office in 2021, the Marketing Service Division was established .
Konica Minolta Japan Executive Officer Marketing Service Division Manager Hideki Kuriyama
The Spatial Design division, which is one of the divisions, says, "By creating a sense of belonging (of employees) and creating communication with the visualization of work styles in mind and facilities" (Konica Minolta Japan Executive Officer Marketing Service Division Manager Hideki Kuriyama)
Mr. Akira Miyamoto, General Manager of Spatial Design Division, Marketing Services Division
Since 2018, Konica Minolta launched "Iijikan Design". Mr. Akira Miyamoto, General Manager of Spatial Design Section of Marketing Services Division, said, "The 'work time' that has been reduced by automation is being allocated to 'creation time' which leads to creation of ideas, and moreover, it is a "self-improvement" devoted to improving one's own abilities and broadening one's horizons. "Time" is the "basis" for creating diverse solutions. »
Based on the knowledge accumulated by Konica Minolta, the Spatial Design division provides multifaceted support services such as advice and office visits to reduce office weight, hygiene measures, facilitate remote working, reduce paper documents and improve workflow. Of course, we have introduced remote working and hybrid working in our company, but "The corona disaster of 2020 has allowed a flexible transition to remote working. Is it possible to continue to think creatively while working from a distance ?" The 25th and 26th floors of the company are called "Connecting Offices" and are divided into seven areas according to work content, such as improving work efficiency and creating ideas.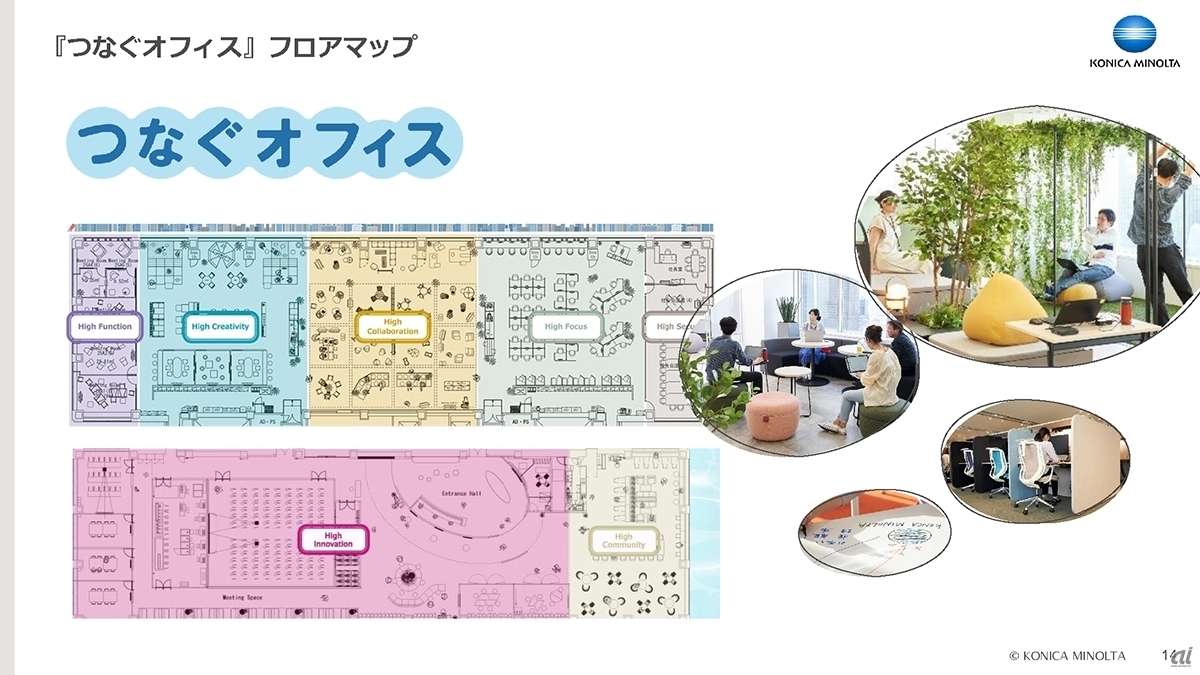 Introducing Tsunagu's Office
The 25th floor has "High Creativity" for enhancing creativity, "High Collaboration" for collaborative work, "High Focus" for concentrated work, "High Secure" for management, and "High Function" for important work. Five types. The 26th floor has two floors: "High Innovation", which can be used for events, etc., and "High Community", which is used for communication between employees who have come to work. Mr. Miyamoto said, "If you come to the office, you need to significantly improve your work efficiency, creativity and commitment. Otherwise, it's better to stay at home. We created the '7 Highs'."
Reservations are required for High Focus, which has a sound masking system that lets background noise from the air conditioner circulate through the room to increase concentration, and a private room for online meetings. High creativity creates a sense of openness for employees based on earth colors, while providing private rooms for collaborative work, short-term meetings, and improving employee happiness.
High Collaboration features furniture that matches the 4×4 lattice pattern to keep meetings boring. We aim to improve the quality of collaborative work by using several grids depending on the number of participating collaborators. In addition, in order to avoid the deterioration and obsolescence of office furniture, we have adopted an annual subscription service. High Creativity, High Collaboration and High Focus are assigned the same area, but "there is a difference in usability depending on the size. We will check the effect with the same area."
Tsunagu Office has been operational since 2021, but when we surveyed High Focus users, they said, "I can't see surrounding information (31%)," "Quiet (23%)" and "I can't talk to them (31%)." 16%" ranked first (number of valid responses = 100). Seats that close on three sides are also popular, proving that "employees can concentrate better if they have a space where they can immerse themselves (in work) while blocking their view". used.
Currently, 76% of the company's employees practice hybrid working, but the interest of other companies in connected offices seems to be increasing. Comparing the number of office visits from July 2018 to June 2019 with those from July 2021 to June 2022, the number increased by 44.3%. Mr. Miyamoto explained, "Even though hybrid working is spreading, there are issues such as operational policies. The demand to know what kind of challenges, what kind of results and what kind of failures showed up in the numbers. The space allocated to company employees has also increased from around 3 square meters to 7 square meters.
Konica Minolta presented examples of Kubota and a certain chemical manufacturer as effects of space design by Space Design Division. Kubota introduced a free addressing system and ABW (Activity Based Working) to consolidate its scattered offices in Tokyo in the Kyobashi Trust Tower. At the same time, we managed to reduce paper documents and books by 79% thanks to dematerialization. We have also secured workspaces for our employees, which have increased 1.4 times.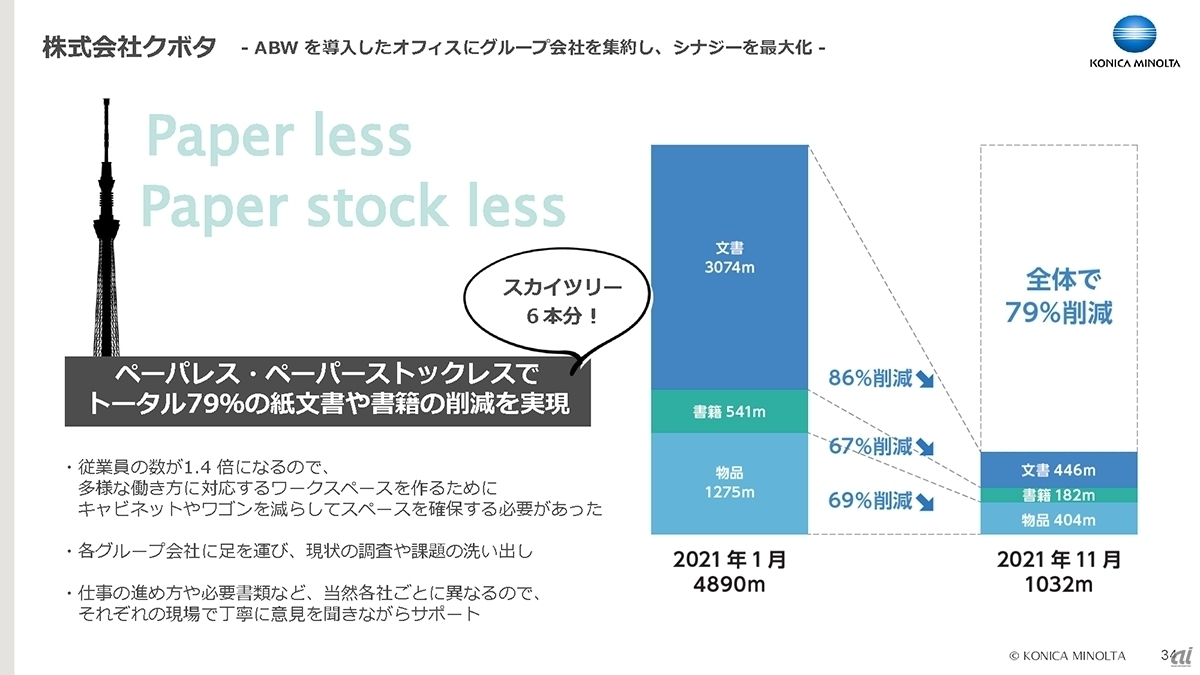 Kubota Case Study
A certain chemical manufacturer held a workshop involving Konica Minolta and its employees after renovating their office environment to gather ideas. Of course, some employees aren't used to coming up with ideas, but Konica Minolta said, "We hold workplace study sessions, workplace tours, and workshops. Even though workshops are held without input, there will be no breakthroughs," explained. A certain chemical manufacturer realized an office environment focused on communication and employee refreshment.
Konica Minolta offers a "programming design workflow" for companies that want to renovate their offices. The first step is to review the project policy to grasp the current situation and listen to management direction. The second step is to clarify the picture through the aforementioned workplace study session. The third step is the formulation of a basic workplace policy that examines and organizes work styles and visualizes employee activities. Finally, we define the specific design as the fourth step, such as space design consideration and cost estimation, and provide services. The price "depends on the consultation period and the size of the organization, but the price starts from 3 million yen" (Mr. Miyamoto)
The company claims that the series of initiatives can be used in showrooms and events (including high innovation). Highlights are "PM power and design power. In the department, a dedicated office relocation manager is responsible for many adjustments such as schedule management and quality control. In addition, designers visit the customers to interview and create while talking with customers. As a result, the customers themselves feel attached (to the office) as if they were building their own house, and the level of satisfaction is extremely high."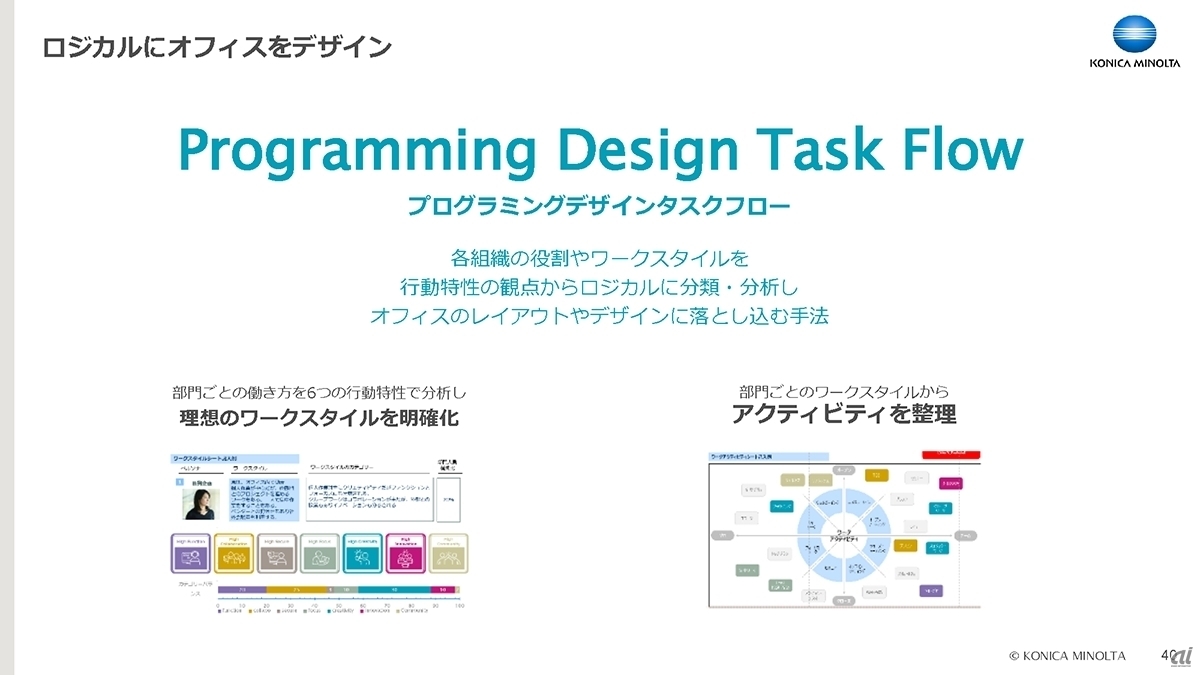 Understanding Programming Design Workflows