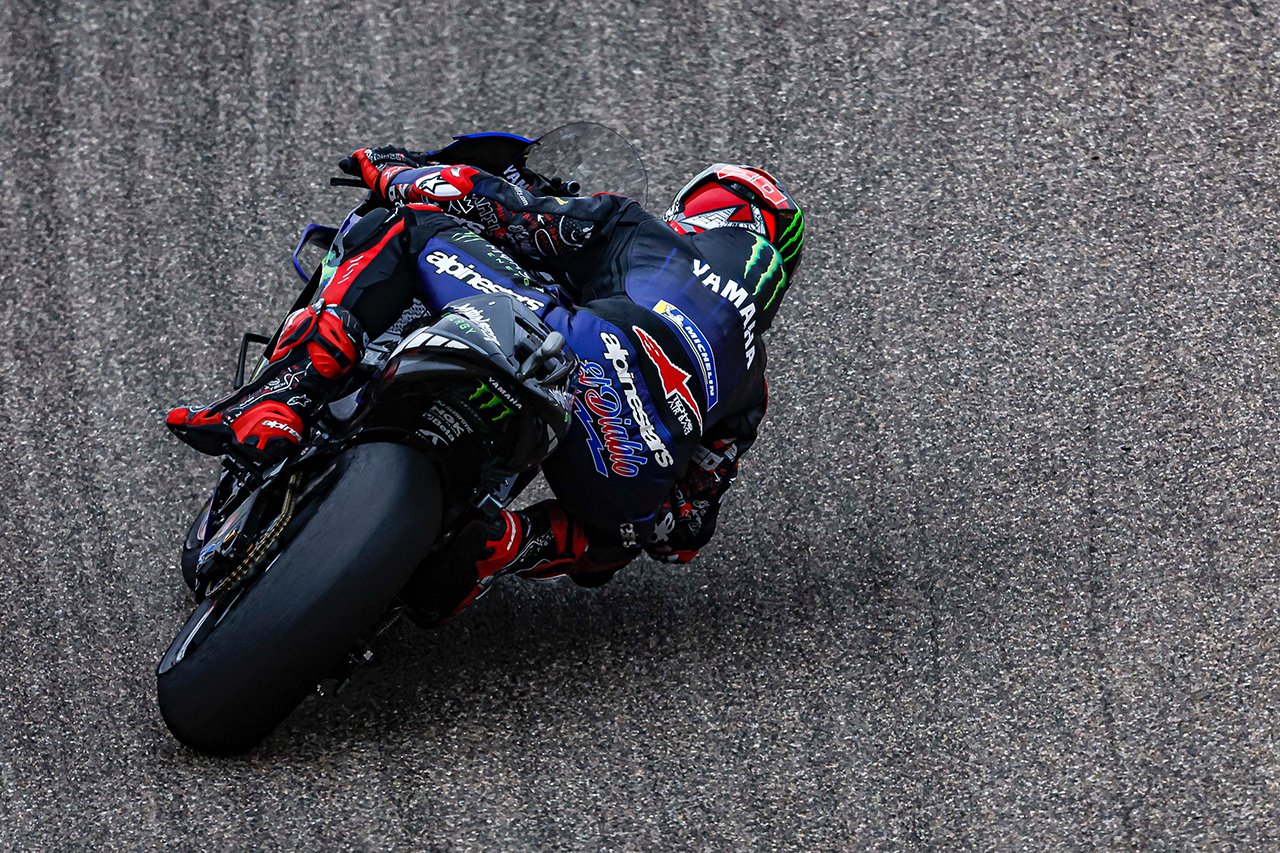 An eventful final, Monster Energy Yamaha MotoGP finishes without any points
Franco Morbidelli (Monster Energy Yamaha MotoGP) struggled to pick up the pace but managed to finish in 17th place. His team-mate Fabio Quartararo crashed after hitting his rival's tail on the exit of the third corner of the first lap. He was forced to retire, but luckily there were no serious injuries apart from a scratch and a bruise on his chest.
Morbidelli started from 20th on the grid, but after a series of crashes on the first lap he was caught up in the chaos and fell back to the back of the grid. However, he struggled to recover from here, passing two cars on lap 14. After staying in 18th position for a while, he took the checkered flag in 17th position on the final stage. The difference with the top was 30.422 seconds.
Quartararo entered the first corner in 7th from 6th on the grid. However, an accident occurred at the third corner immediately after that. Mr. Marquez's machine (Honda) running in front of him shook violently, and Quartararo could not avoid it and hit the tail and fell at high speed. Quartararo was hit by his own machine and suffered a chest scratch, although no other riders were hit despite the incident in a packed crowd.
As a result, Quartararo was unable to extend his championship points streak and his lead was reduced to 10 points. Morbidelli remains 19th in the standings with 29 points. Monster Energy Yamaha MotoGP remains third in the team standings with a total of 237 points, while Yamaha is third in the constructors' standings with a total of 213 points.
Crutchlow scored on the comeback, Binder also had a good fight
Yamaha test rider Cal Crutchlow, who replaced retired A. Dovizioso for the WithU Yamaha RNF MotoGP team, showed high pace early on. Starting 19th on the grid, he moved up 3 positions in the first sector and moved up to 12th at the end of the first lap.
He maintained his speed throughout the 23 laps and showed a good fight, but gradually slipped back in the second half. Despite this, he pushed hard until the end and finished in 14th place, earning two points.
His teammate Darrin Binder quickly moved up to 18th after starting from 23rd on the grid. However, it will be delayed while avoiding the accident that happened to come. He tried to recover from here, maintaining a high pace and at one point was in points bracket, but in the second half he was passed by several cars and finished 18th.
Monster Energy Yamaha MotoGP
Franco Morbidelli (17th)
"I had two accidents on the first lap, and I got caught. From 20th on the grid, things like that can happen. We were able to recover a few cars, but we are aiming for a higher position , and we were trying a few things to increase our speed in the high speed corners. I didn't feel any improvement. I just focused on doing my best.. Will try again in Japan next time ."
Fabio Quartararo (DNF)
"I don't have any major injuries, just a scratch on my chest and other than that I'm very depressed. Oh no, some of the cars shook the rear, some went off the line and I got hit by Marquez. It's a very disappointing result. I'm going to sleep on my back for a while. But I will definitely participate in the Japanese GP!"
Massimo Melegari (team manager)
"I wish I could forget today. Quartararo's accident was quick, but our priority is always the safety and health of our driver. But I'm relieved that there were no major problems. I knew he had a lot of potential and it's a real shame to finish the race like that. Morbidelli worked hard all weekend on the car. the race.I made up a few places in the final, but initially I was aiming for a higher position.At the next Motegi, I will start afresh and try again.The race continues every week.So I think it's a good environment to aim for revenge as soon as possible."
WithU Yamaha RNF MotoGP Team Wins MotoGP
Cal Crutchlow (14th)
"I'm very happy to be back in the race and to finish the race. They're happy and I'm happy with everything, everyone knew it wasn't a good track for Yamaha and we didn't have enough material to fight us, but I changed direction during the week, and when I saw a rider in front of me, I wanted to pass him After a year of not racing, I'm happy to have been able to finish my return race well."
Darin Binder (18th)
"There were a lot of crashes on the first lap and it was a big mess. Takaaki Nakagami's car was in the middle of the track and I took the wrong direction to avoid it and took some I chased Espargaro for a few laps, and after that I struggled to deal with the loss of grip, but I managed to keep my pace in the last laps and was able to pass Gianantonio in the last I feel like I've taken a big step up from 2018 and I think "I tried at the Misano test and I paid a little today. I will keep trying, pushing forward and aiming for points at the next Motegi."
Razlan Lazari (Founder/Team President)
"It was a great comeback for Crutchlow. A good start and a 14th place and a few points are very valuable for us at the bottom of the team classification. Binder too. I had a good start and improved in the points, but then I fell back a bit to finish 18th. I didn't score any points, but I learned to keep a constant pace on the worn tires. It will be three races in a row for Aragon in Japan and Thailand, and I'm looking forward to the air race which starts next week at the Japanese Grand Prix."
Wilko Seerenberg (team leader)
"As I've said before, Aragon is always a tough track and Crutchlow's two points here are testament to his strong performance. The first two laps were a big mess, everyone was expecting a flag stop red, but that didn't turn out to be the case and our two riders did a good job of avoiding it. Binder made steady progress, especially towards the end, starting in the middle. We passed Fernandez and Gianantonio and finished 18th behind Morbidelli. We won the championship with Franco in 2020. Of course, I'm also happy that my 36-year-old father, Crutchlow, who came back from retirement, scored two points here. I'm proud and I'm starting to prepare for the next Motegi.