Game held
Visit request
In order to hold the match while preventing infection with the new coronavirus as much as possible,J League Novel Coronavirus Infectious Disease Response GuidelinesWe will operate in accordance with
Matsumoto Yamaga FC has established restrictions on the operation of entry gates and support methods in accordance with the "J.League New Coronavirus Infectious Disease Response Guidelines".
■ Regarding voice media matches
In accordance with the call assistance guidelines, the "call assistance zone" where you can clap loudly according to certain rules will be set up[sièges non réservés à domicile (derrière le but sud, une partie de l'arrière du but nord)][sièges non réservés à l'extérieur ]].
*Entrance at[siège d'accueil non réservé (derrière le but sud)]Holders of a season pass at home without reservation onlybECOMES.
*Entrance at[siège d'accueil non réservé (partie derrière le but nord)]All holders of non-reserved seat at home season tickets and non-reserved seat at home tickets and invitational tickets are eligiblebECOMES.
[Billet d'invitation sponsor/Billet d'invitation Club Guns]On match day, please stop at the special ticket exchange counter before entering the venue and fill in your personal information. We will give you a wristband, so please show your ticket and wristband at gate N2 (secondary gate).
[Billet d'invitation au rêve des enfants]Please report to gate N2 (second gate) as it is.
■For those who enter the voice support area, please check the following information.
9/25 (Sunday) YS Yokohama Match "Voice Support" Announcement
9/25 (Sunday) YS Yokohama "Voice Assist" Voice Assist Guidelines
About the concept of wearing a mask when visiting the J.League
All visitors are required to wear a mask. (A non-woven fabric with a high collection effect is desirable) However, in the following cases, the need for a mask can be eliminated.
If you have a respiratory condition or allergy that makes it difficult to wear. However, please take the following best measures, such as keeping a distance from other visitors.
When removing the mask to avoid heat stroke. Refrain from talking, cheering, and vocalizing, and pay attention to cough etiquette. If there is conversation, cheers or voices, wear a mask beforehand.
Remove the mask when eating and drinking, but do not talk, cheer, or vocalize until the mask is on.
We ask for your understanding and cooperation so that fans, supporters, staff and related parties can spend their time in good health.
*Seats other than the "Voice Assist Area" will not be vacant for one seat, and you can watch the game from the next seat.
Click here for updates on other home games of the 2022 season
Click here for more information on using the season pass, purchasing tickets and applying in advance for the "Children's Dream Invitation Ticket".
Precautions when entering
Preschoolers don't need a ticket if they're watching on their parent's lap.
PET bottles, bottles and cans larger than 701ml cannot be brought onto the site.
(Items other than beverages, such as hairspray, are also prohibited.)
In principle, the use of umbrellas in the room is prohibited. Please bring rain gear (kappa, poncho) in case of rain.
Click here for Spectator Etiquette and Rules
Opening hours
Regarding the formation of queues for admission
■ Doors 1 and 4
Advance admission for season pass holders
If you have a season pass for seat B or an unreserved home seat and would like to participate in the advance admission lottery from Gates 1 and 4, please apply in advance from the official J.League "Club J.LEAGUE" app. Those who did not participate in the early admission lottery, or those who did not arrive in time, please line up in the early admission preliminary queue.
*Those with season tickets for SS, S and A seats cannot participate in the lottery. SS and S seats must enter through the slope door, and A seats and exciting seats must enter through the rear grandstand door.
Early Admission Lottery Implementation Method
Click here for more details >>>
◆Regarding forming queues for attendees
Starting at 12:00 p.m., we will organize the queues for those who have applied for the Early Admission Queue Lottery.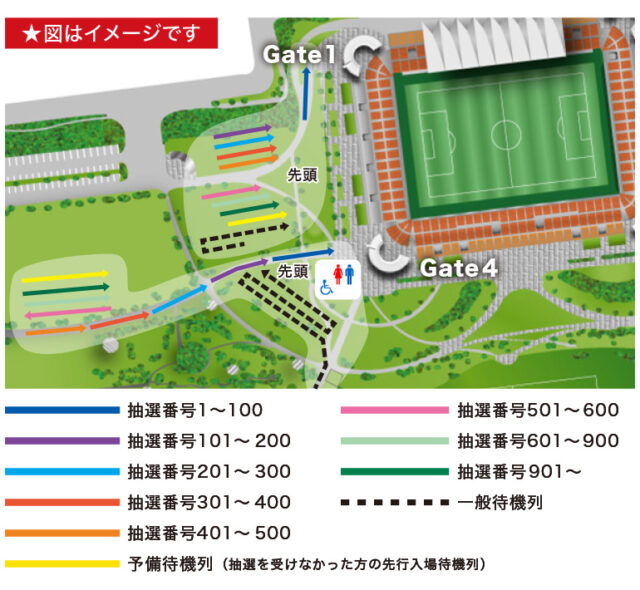 Click here for details on admission and queuing rules
■ Slope door
■ Rear door
* If you line up at the slope gate/back gate, please line up as follows. (image)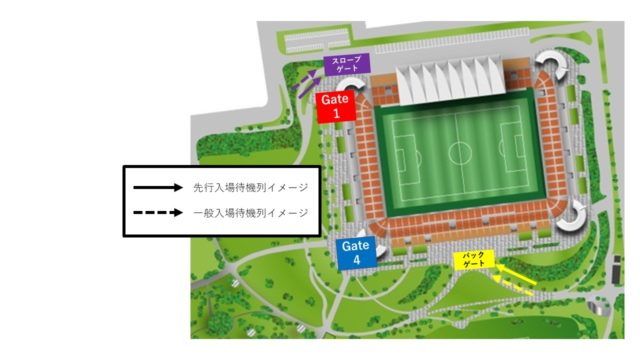 ■ 2 doors
Away supporters, please check here.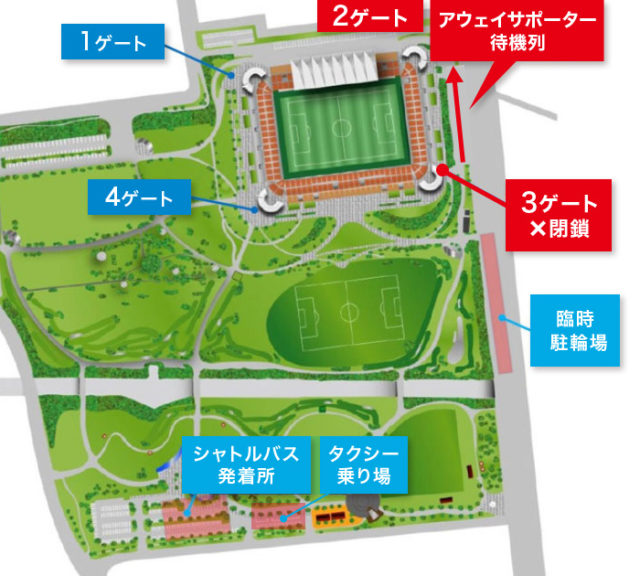 Reception/event start time
Room precautions
Temporary exit and re-entry is possible from the "re-entry door" near Gate 1 and the rear grandstand door. We will give you a re-entry ticket when you leave temporarily, so we will check the re-entry ticket when you return. (from 12:30 p.m. to 4:10 p.m.)
There is no smoking area to avoid close contact and reduce the risk of infection. Additionally, smoking is not permitted inside SkyPark, including Sunpro Alwyn.
A garbage sorting station will be set up on the premises, but it is strictly forbidden to bring garbage from your home or to throw sanitary garbage such as masks on the premises.
■Regarding home and away fans watching matches and playing
You may not watch the match while wearing supporters' items in the home side grandstand lobby, home side non-reserved seats or exciting field seats. Additionally, you may not watch a game while wearing home fan merchandise in the outside side stand lobby or outside non-reserved seating.
After early entry begins, we will temporarily block the area around the 2nd gate entrance until the entrance of visiting team supporters stabilizes.
Part of the hall in the outer stands will be blocked from around 15 minutes into the second half. Only visiting supporters are allowed to exit through Gate 2.
■ Displaying banners
Fans who wish to display banners on match day should assemble at the following location and time.
[Home Supporters]11h00-11h45 in front of door 4
[Supporters extérieurs]11:50 a.m.-12:20 p.m. before gate 2 (a preliminary explanation will be given from 11:40 a.m.)
The posting method and position will be explained by the staff on the day, so please follow the instructions.
In order to prevent the spread of the new coronavirus infection, banners, etc. cannot be installed on seats.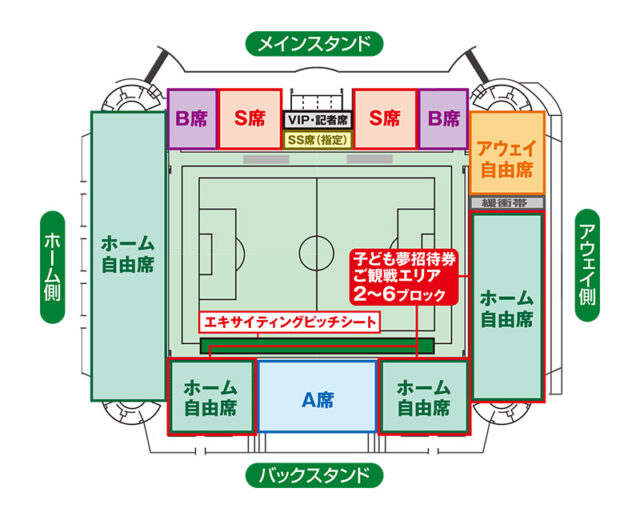 Rules and manners of spectators
Other "Rules and Ways of Watching"
Matsumoto Yamaga FC "Rules for Match Management"
■ Look at common J League mores and rules
https://www.jleague.jp/aboutj/control/