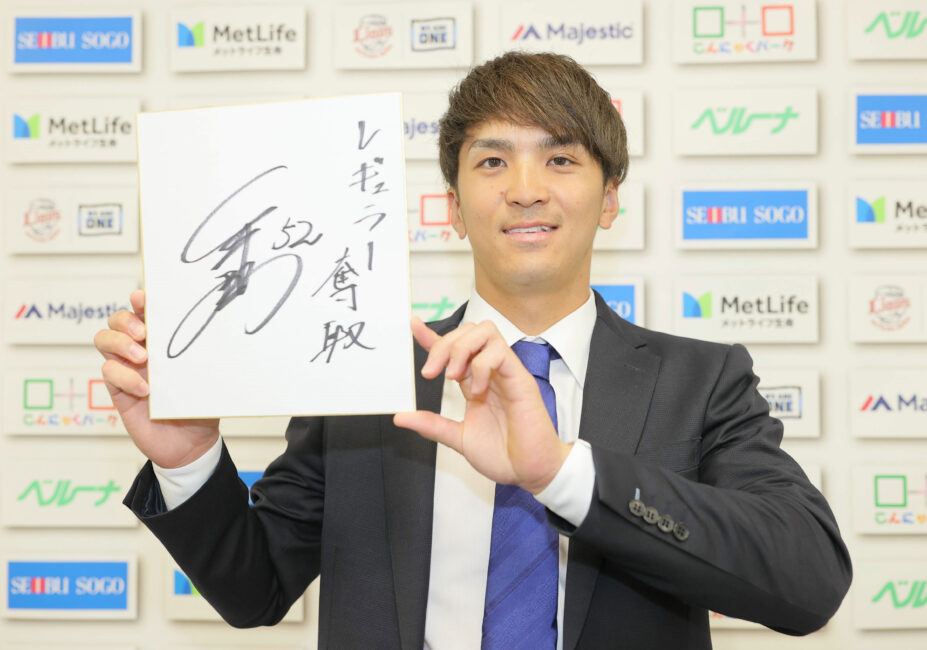 Image: news
・ On the 21st, Sousuke Genda, who belongs to the Saitama Seibu Lions, updated his Instagram and announced a comment on the content reported on Bunshun Online.
・The magazine reports that Haruka Yamada's wife, who belongs to the Seibu Lions, sent slanderous DMs to Misa Eto, Genda's wife.
・On the 22nd, someone who interacted with Yamada's wife in the past posted a screenshot of her on the Internet, which caused a stir.
Sousuke Genda, slanderous slander on his wife, Misa Eto, "The culprit is someone we don't even imagine"
On the 21st, Misa Eto, the wife of Saitama Seibu Lions captain Sosuke Genda, was slandered on Instagram by his teammate's wife. Genda explained the process on his Instagram.
Master player Genda, who won Best Nine and Golden Glove for four consecutive years, has a strong batting presence and captains the team with his competitive strength.
In 2019, he announced his marriage to former Nogizaka46 member Misa Eto.
Regarding Genda, the magazine reported that his teammate Haruka Yamada's wife repeatedly sent slanderous messages to Eto on SNS (Instagram).
Perhaps because the slander escalated, Genda began to feel threatened and, after consulting with a lawyer, decided to request the release of information.
On his own Instagram, Genda said, "Experiencing firsthand how much mental pain and physical danger it can be to be slandered, I also had a desire to appeal to the world. However, since the caller has been identified as the wife of a teammate who we never imagined we have decided to discuss with the team that we would like to keep everything private and not take the baseball away from the player.', commented .
A teammate's wife admitted to slandering his own wife.
Related article:Haruka Yamada, who is the marriage partner's wife? What is the behind-the-scenes Instagram account that slandered Sousuke Genda's wife?
Haruka Yamada's wife, real name leaked in screenshot! Wife was on fire even before marriage
Haruka Yamada is a player who belongs to the same Saitama Seibu Lions as Genda, and is nicknamed "Harukichi".
Although he has less first-team experience than Genda, he is valued by the team as a utility player who can play any position without hesitation.
It is said that Yamada's wife slandered Genda's wife, Misa Eto, but what kind of person is Yamada's wife?
Yamada got married to his wife in 2019, and since he is not currently engaged in entertainment activities, she is an ordinary woman.
On the other hand, before getting married, she had experience in performing arts activities, such as being a reading model and a model for "Beauty Clock", so it seems that she is not a complete ordinary person.
And when the news of "Bunshun Online" came out, a person who had interacted with Yamada's wife in the past said, "Yamada Haruka's wife, I was slandered eight years ago." Post a screenshot online.
There was a long message about the drinking party, and although his real name was written in Roman letters, it was not hidden and, therefore, it was leaked.
Yamada's wife also sent a letter stating that she was attending a psychosomatic medicine clinic due to postpartum hormonal imbalance and childcare-related fatigue.
Another person who was also a victim left a comment saying, "His thought process is very mysterious and his conversation is difficult."
Prior to getting married, Yamada's wife had been on fire for remarks about a J-League team.
Yamada's wife is said to be "difficult to talk to", but if you look at the sentences in the screenshots that have been exposed, you can see incomprehensible sentences.
As with Mr. and Mrs. Genda, Mr. Yamada can also be a victim.
(Text: Hattori Shinichi)
Related article link (external site)
Haruka Yamada, who is the marriage partner's wife? What is the behind-the-scenes Instagram account that slandered Sousuke Genda's wife?
"Junk Sports" Female Athletes in Uniform Enthusiastic Viewers "No Embarrassment" "Nosebleeds"
Sara Dosho surprised viewers with a different 180 degree image during her appearance in "pacific saury Goten" "Gorgeous at Whose Level?"
Hayato Sakamoto, who is his former girlfriend Ako? Photos leaked in the past! ?
Miki Ando, ​​the past who was hurt by the shocking abuse behind his low self-esteem 'It's a shame for Japan because he's a pig'