Intel announced on September 21 that it will launch the "Intel SaaS Market Acceleration Program" in the fourth quarter of 2022, a program to promote sales and technical support activities for SaaS vendors.
President Kunimasa Suzuki said at a press conference, "The national public cloud market is expected to grow at an annual rate of 18.3% from 2021 to 2026. While approximately 80% of large enterprises use the cloud, only about 49% of small and medium-sized enterprises". Considering the fact that 99.7% of Japanese enterprises are categorized as SMEs in terms of the number of enterprises, he pointed out that "it is important to support and develop SMEs in order to aim for the growth of Japanese industry. ".
Based on the idea that SaaS, which is relatively easy to implement, should be the first step towards promoting DX to small and medium-sized businesses, the company positions SaaS providers as "supporters of small and Medium Businesses" and aims to promote the use of the cloud by small and medium-sized businesses, which will provide SaaS providers with commercial and technical support in order to eliminate the lingering concerns about the obstacles of "lack of human resources", "safety" and "cost".
Intel's cloud strategy. Mr. Suzuki explained that Intel is "more than just a supplier of semiconductors, it is a company that aims to support the growth of Japanese industry." Since it's directly connected, it's a flow to support that. Still, given that the heavy users of the company's processor products are now cloud-bound companies, it's not particularly contradictory to think that it is a conventional activity to provide appropriate support in response to these needs.
The new program will provide technical support to SaaS providers who provide services so that small and medium business users can easily use cloud services with enhanced security. We will prepare an environment in which cloud services can be used without having human resources or IT knowledge, and support the improvement of work productivity and the promotion of DX.
In 2022, the first year of the project, we plan to focus on business support. The company plans to form a community with SaaS companies participating in the program and develop business promotion activities such as providing opportunities to participate in events and connecting small and medium-sized companies that will be users. Additionally, beginning in 2023, we plan to expand SaaS vendor participation and expand our activities to include technology seminars, cloud optimization assistance, and technical assistance.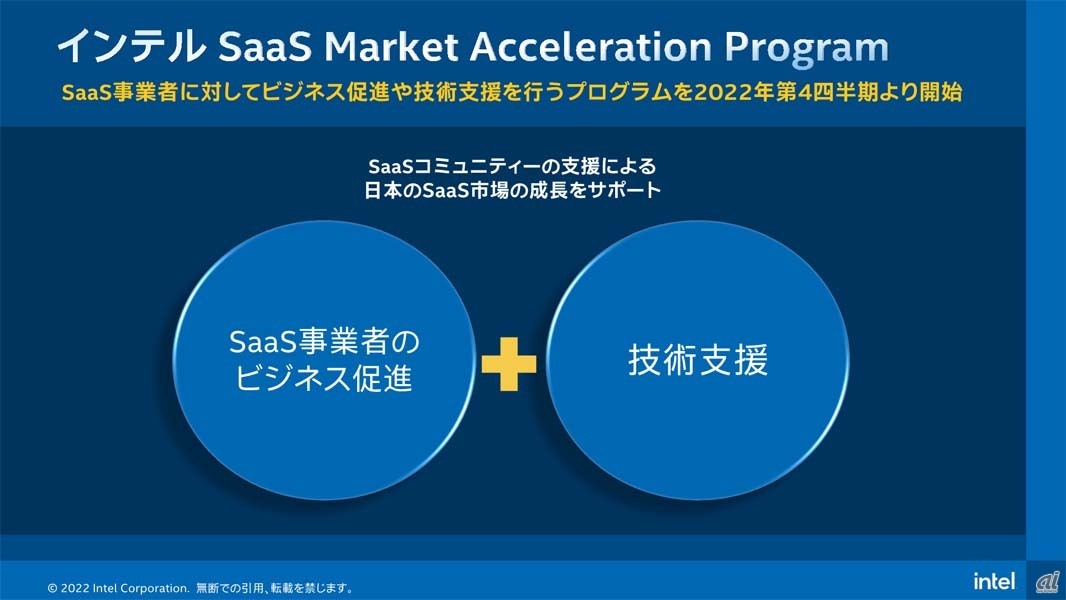 An overview of the Intel SaaS Marketplace Accelerator Program. Build a community of SaaS vendors and provide them with sales and technical support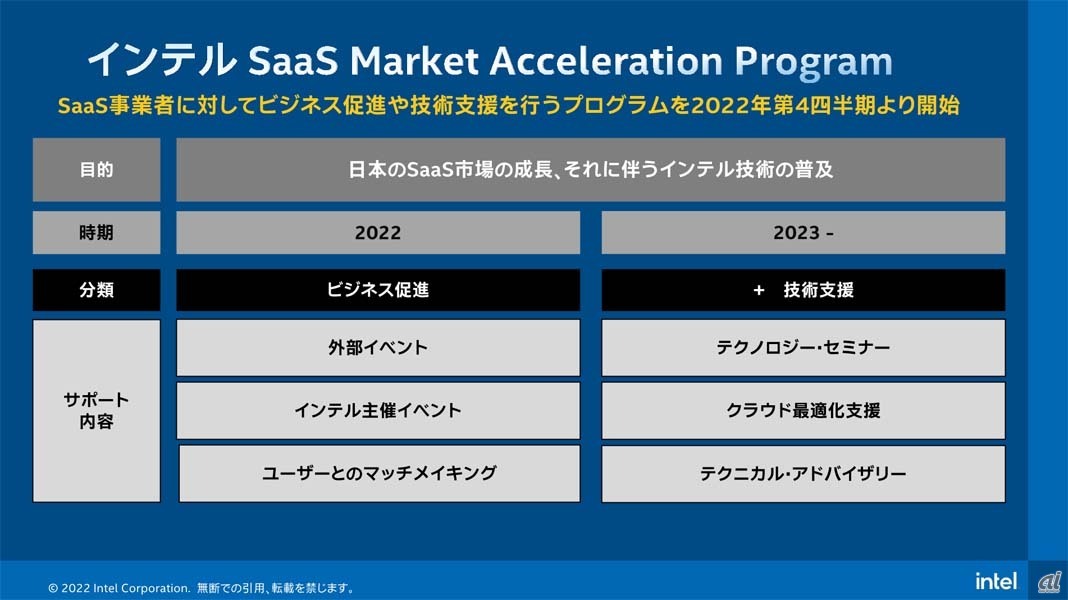 Content of the Intel SaaS Marketplace Accelerator Program. 2022 will begin with commercial support, with technical support planned for 2023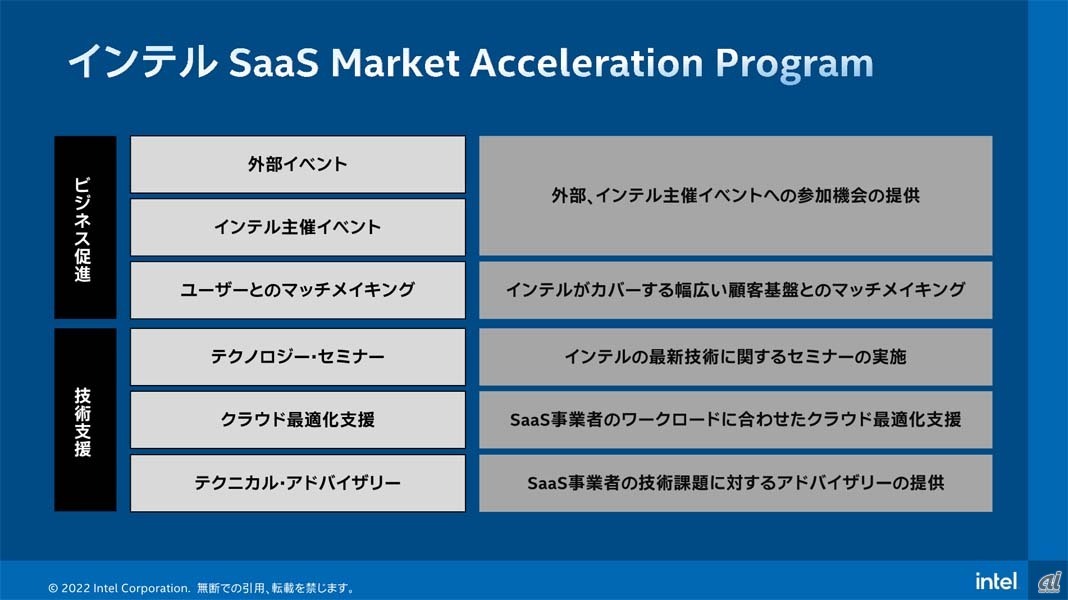 Specific details of support measures
Lei Zhang, General Manager, General Manager of Industry Business Division, explained Intel's value in the cloud. The company reportedly launched initiatives in this area early on, such as starting to provide custom processors for cloud providers in 2012. "I pointed out that it provides such value.
Additionally, Takanari Matsuda, DCAI Sales Cloud Solution Architect, said the technical support the company can provide to cloud/SaaS operators includes not only cloud-optimized processors (Intel Xeon Scalable Processors), but also providing information on cloud workload optimization. and various software, we can provide various technical support so that the cloud can be used with maximum efficiency.
There is no doubt that improving labor productivity in SMBs is an important issue, and there is no doubt that the use of SaaS can be an effective way to solve this problem. At first glance, this initiative seems like an indirect approach to making it easier for small and medium-sized businesses to use SaaS by supporting the business side of SaaS, but we'll keep an eye out for what kind of results it will produce. sea ​​bream.
Read ZDNet Japan's articles every morning via email (free registration)