On September 21, Signify Japan announced "WiZ" smart lighting equipped with a Wi-Fi sensing feature as standard. It aims to broaden the dissemination base of smart lighting by providing ease of use such as the ability to set up in 30 seconds. It will be available on Amazon from the same day.

Smart Lighting "WiZ" Series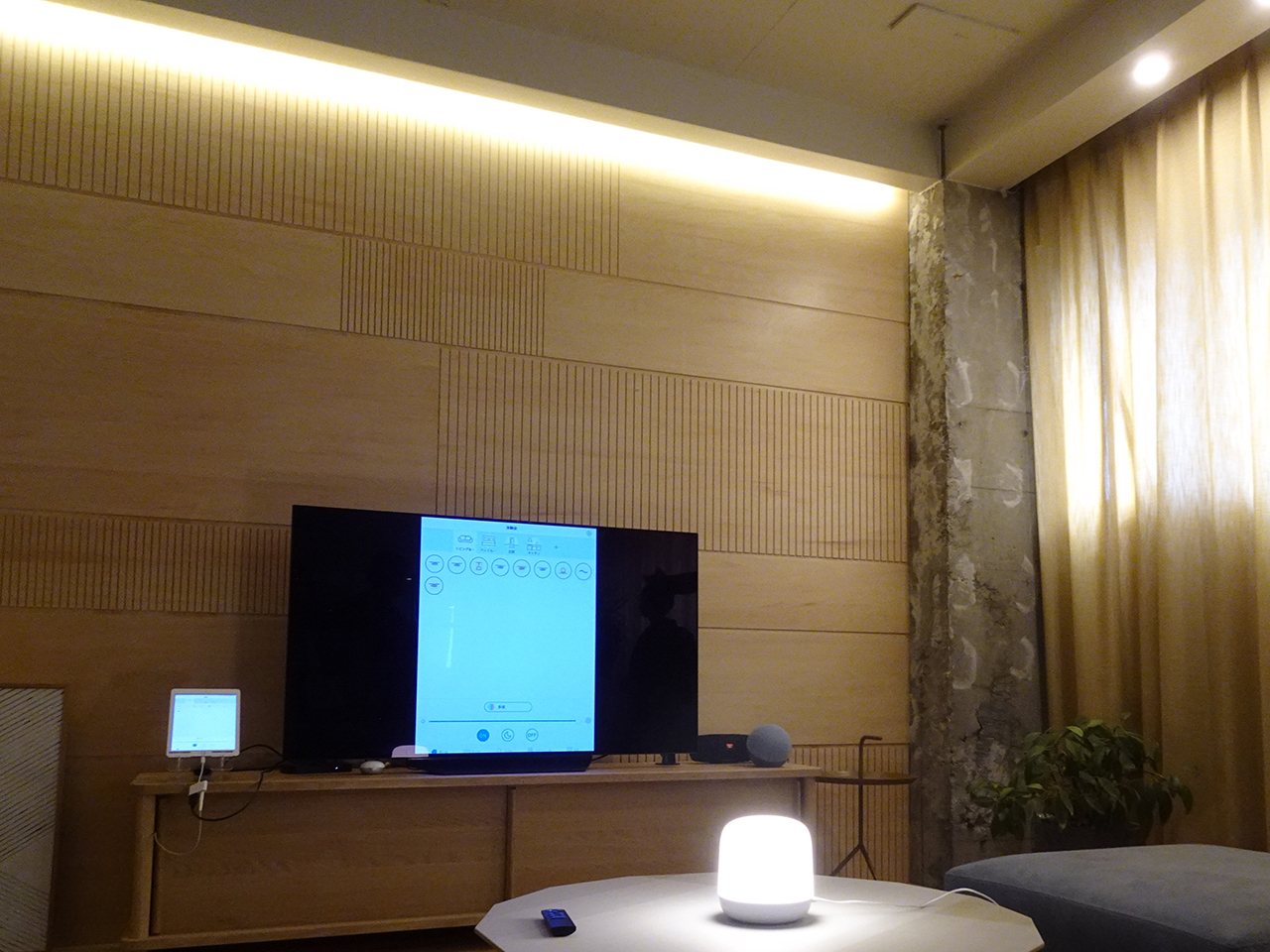 Picture of the room where "WiZ" is installed
Signify changed its name from Philips Lighting Japan in 2019. It is engaged in facility lighting and home lighting, and develops and sells "Philips Hue" in smart lighting. "We are the world leader in smart lighting, but the penetration rate in Japan is 2-3%. We want to expand this market by developing smart lighting that is easier to use. We will position WiZ as a brand premium that allows you to have the best lighting experience, and we will bring WiZ to a wide range of people as an entry brand that makes it easy to get started with smart lighting.
Signify the story
WiZ is smart lighting that can be used with a dedicated app and Wi-Fi without the need for a dedicated hub. Equipped with "SpaceSense" Wi-Fi sensing function (available from V2 app which is expected to be released at the end of September) on the main unit, the light will automatically turn on when a person enters the room , and turns off automatically when no movement is made. For example, it is possible to control by detecting motion. To use it, you need two WiZs. One is a transmitter and the other is a receiver, and it can detect Wi-Fi fluctuations and turn lights on, off and dim.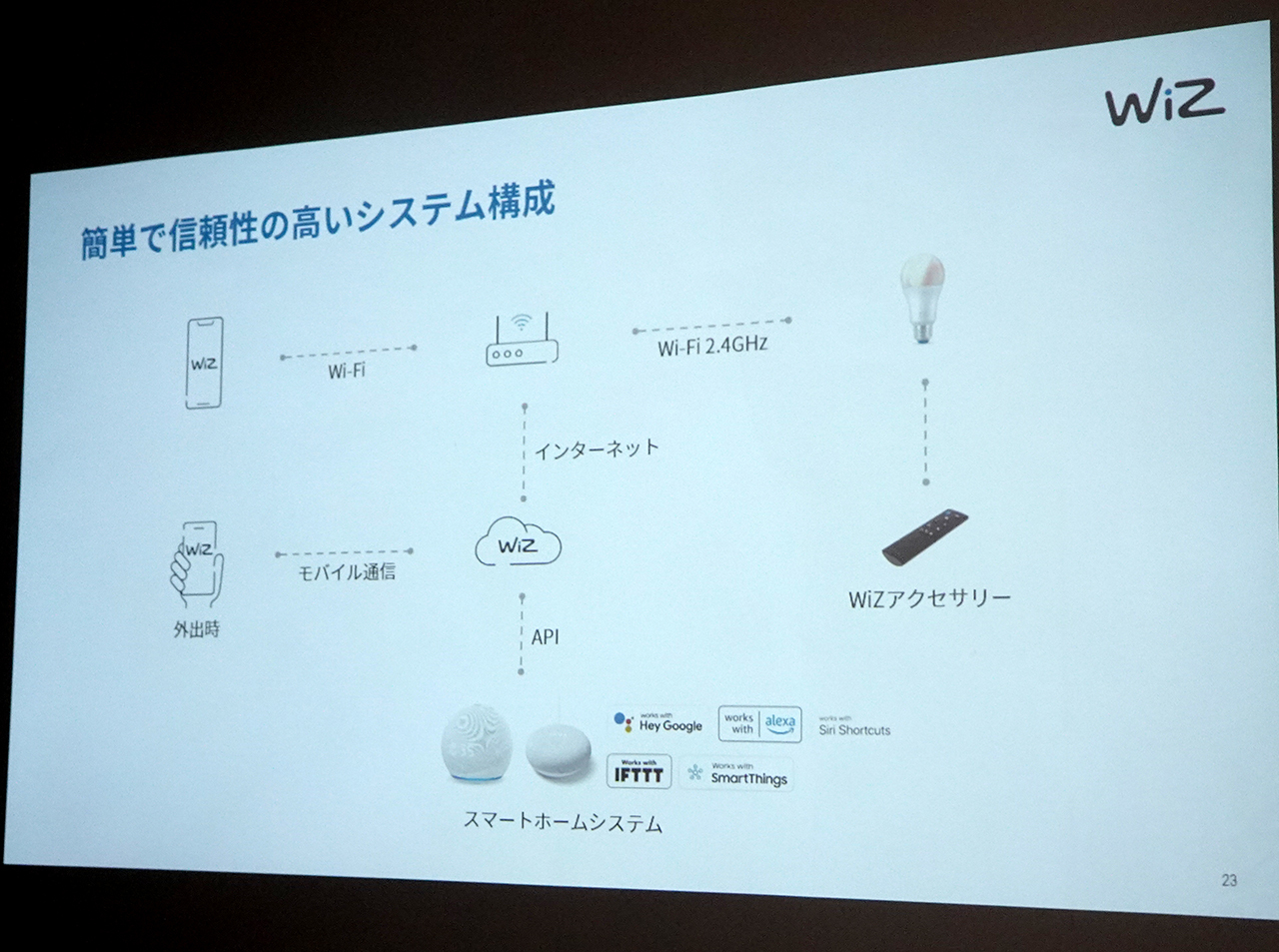 Configuring the WiZ system
"There are motion sensors that have similar functions, but they require maintenance such as replacing the sensor battery, or they may not be able to detect depending on the orientation of the installation. be covered." (Signify Japan WiZ Business Development director Ryo Iwashita) In addition to being able to set the sensitivity from 1 to 9 steps, it is also possible to select a time zone during which detection should not be performed. Mr. Iwashita says, "You can avoid tossing and turning in bed and turning on the lights.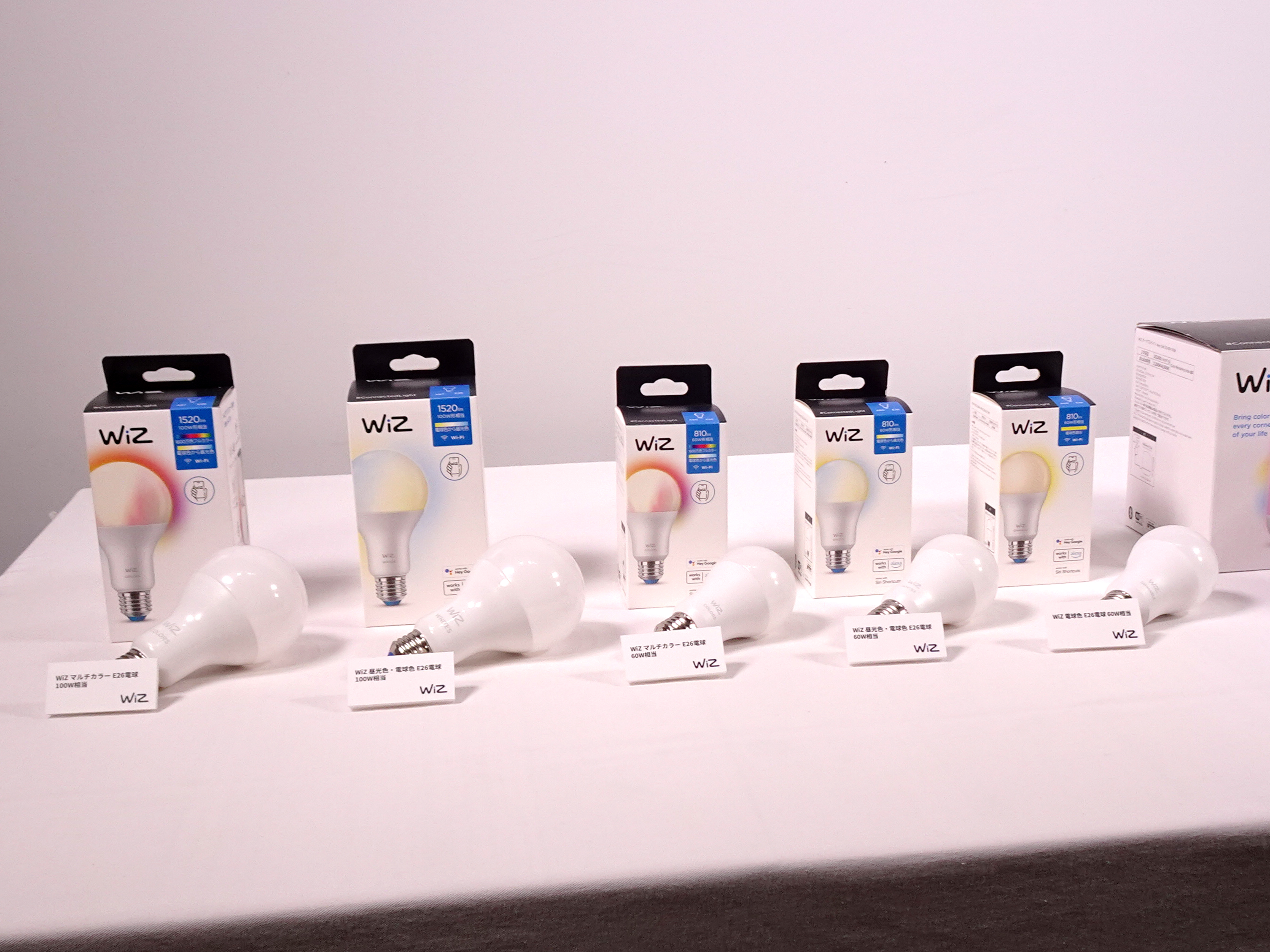 From left: "E26 multicolor WiZ bulb" (100W equivalent), "E26 daylight color/color WiZ bulb" (100W equivalent), "E26 multicolor WiZ bulb" (60W equivalent) , "WiZ daylight color / E26 bulb color" (60W equivalent), "WiZ bulb color E26 bulb" (60W equivalent)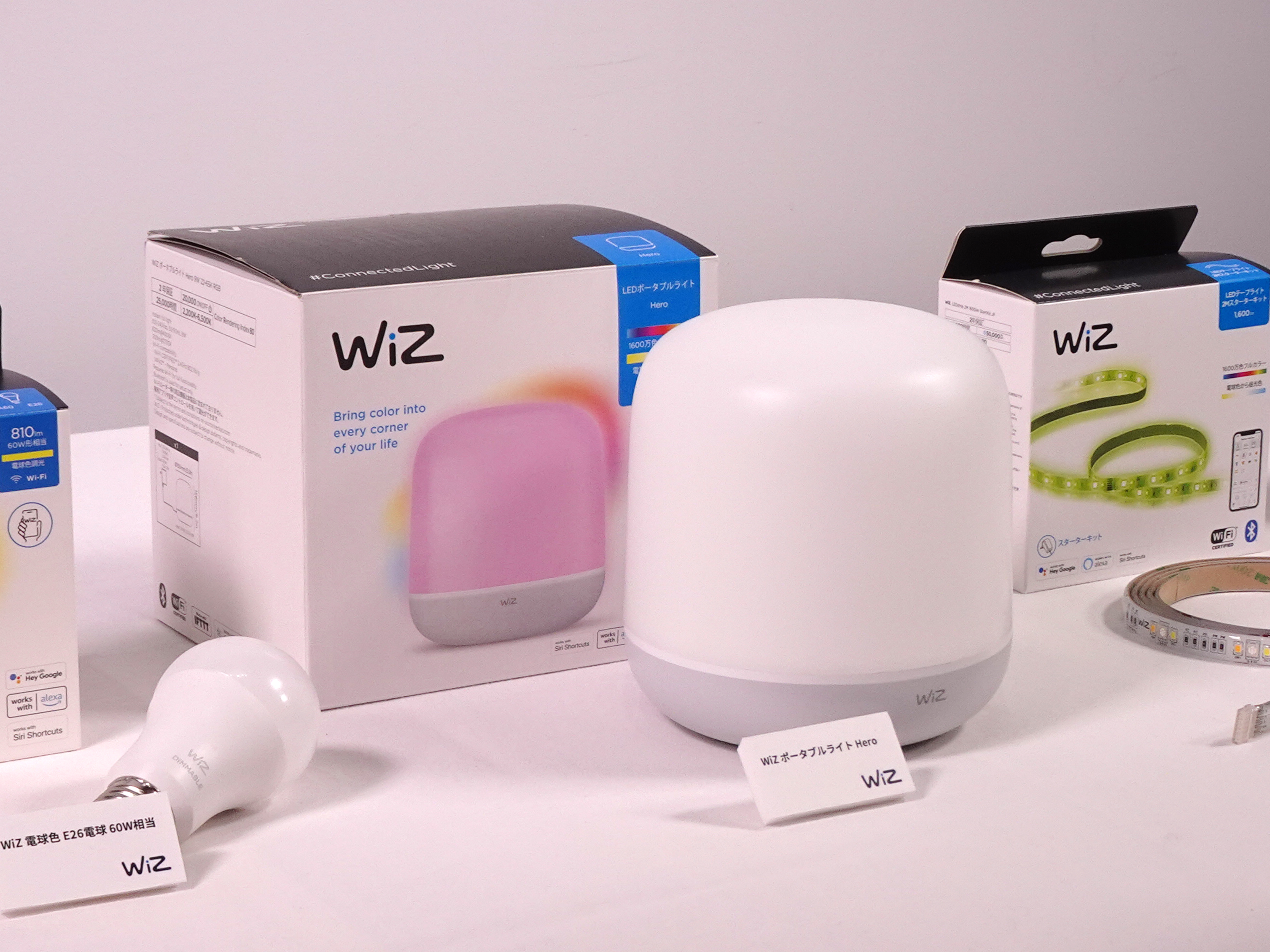 "WiZ Portable Light Hero"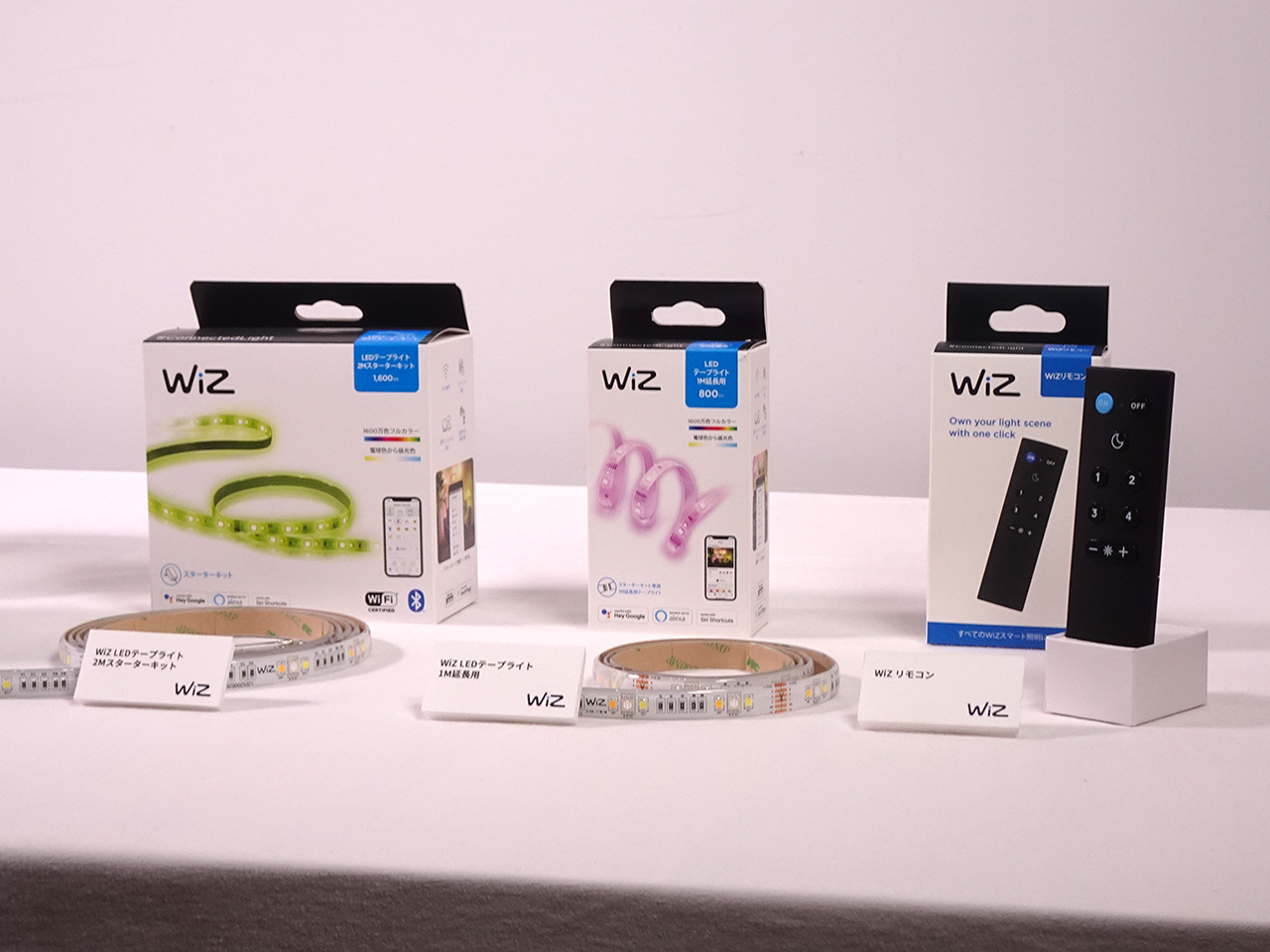 "WiZ LED Tape Light 2M Starter Kit" (left), "WiZ LED Tape Light 1M Extension" (center), "WiZ Remote Control" (right)
WiZ multicolor E26 bulb (100W equivalent / 60W equivalent) (price including tax: 3980 yen / 2980 yen)
WiZ daylight color/E26 bulb color (100W equivalent/60W equivalent) (Including tax price: 2980 yen/2480 yen)
WiZ color bulb E26 equivalent 60W bulb (price including tax: 1980 yen)
WiZ Portable Light Hero (Price including tax: 5980 yen)
WiZ LED Tape Light 2M Starter Kit (Including VAT: 7980 yen)
WiZ LED light strip for 1M extension (price including tax: 1980 yen)
WiZ Remote (price including tax: 1980 yen)
With the dedicated WiZ app, you can select lighting colors from a variety of presets inspired by specific scenes, such as the fireplace or the sea, and create your own lighting scenes. Since it is possible to select and adjust lighting adapted to the circadian rhythm, it is also possible to automate the lighting according to the rhythm of life.
Signify Japan has also prepared a dedicated "WiZ Pro" program that provides OEM packaging of WiZ bulbs and parts. By providing it to lighting manufacturers etc. it will encourage entry into smart lighting. "When a manufacturer who manufactures and sells existing luminaires is working on smart lighting, they need communication modules and applications, and they need to allocate a lot of resources. We will be able to enter the field of smart lighting ", said Mr. Iwashita, and we are also working to increase the number of manufacturers entering the market.
As a leading smart lighting company, Signify Japan aims to accelerate the spread of smart lighting in the Japanese market and realize well-being by expanding the WiZ brand in addition to the Hue series.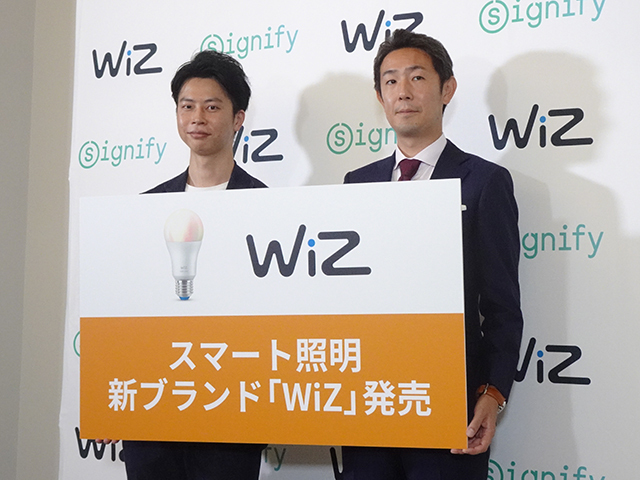 Signify Japan CEO Keitaro Otsuka (right) and WiZ Business Development Manager Ryo Iwashita (left)