The 4th day of the Mahjong Pro League "Daiwa Securities M League 2022-23" was held on Friday, October 7th.
Article on the results of the first match
Players taking part in the second game
East:Takai Takaharu
South:Shingo Hori
West:Gang Kobayashi
North:Rio Tojo
2nd game
Considering the traffic of Yishanten where you can see the three colors of Tampin three colors
the Qi.
A Kobayashi of the lower house

Although cut, it is Tojo's range statement tile

and 2900 additional points.
East 2 post 2 at home, Hori, who skillfully decides agari and continues to be the leader, reached in the 3rd round.
Tojo catches up and Dora

win the


Achieve while waiting.
Tai's hand became difficult after receiving a two-door reach, and he chased after Suji.

spilled.
Hori's 3900 was decided with a card on the back.
Tai is engaged in the East 2 station 3 house

Preventive range with expectation.
Tanyao, Red 1 and Dora 2's E-Shanten, Toujou pushed back, but Tai was the one holding the line.
It became 1000-2000 Agari.
East 3 stations, Tojo


Reach Red 1 and Dora 1 while waiting.
Kobayashi, the parent number in the same order


Wait for me, Tenpai. Ditch just before

I hit and get a chip given the possibility of losing a pair.
From the ditch as planned

was hit and became Kobayashi's 1500 Agari.
East 3 station 1 home, in the 5th round, Tai is Pinhu Dora 1's tenpai.

Achieve while waiting.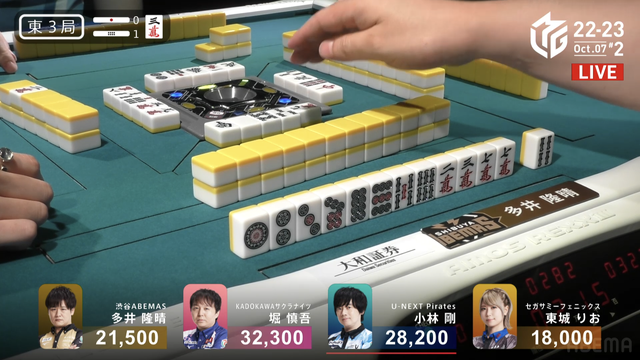 In response, Hori tries to push back.
at Dora's

can be called, and it is also Tai's actual product


3900 tenpai arrive waiting.
Tai is the winner here.ditch

Caught and released the gun, and stood on top by a narrow margin with 8000 Agari.
In the East 4 station, Tojo, the parent number, attacks with range.
As if to show first position in win rate last season

Tsumo, and becomes Agari with 1300 oars.
East 4 station 1 home, Hori's preemptive reach enters all bargain tiles. Wait is



3 sides.
Tai catches up,


I will wait and go out to fight.
Upon receiving this, Kobayashi is stuck. Tai's actual product

was cut and the cannon was dropped into the moat.
With a card on the back, it was 8000 Agari, and once again Hori popped a head.
In the South 1 station 1 house, Tai, the parent number, is a seven-pair tenpai.
from the ditch

was threatened, but

Avoid shooting with anko drop.
Immediately after Kobayashi

is caught and released.
It became 4800 Agari of Tai.
The South 1 station 2 house also belongs to parent Tai.
was gone

Repeatedly reach seven pairs again.
Kobayashi again

4 consecutive shots of regret that caught.
Tai scored a 9600 Agari to take the lead.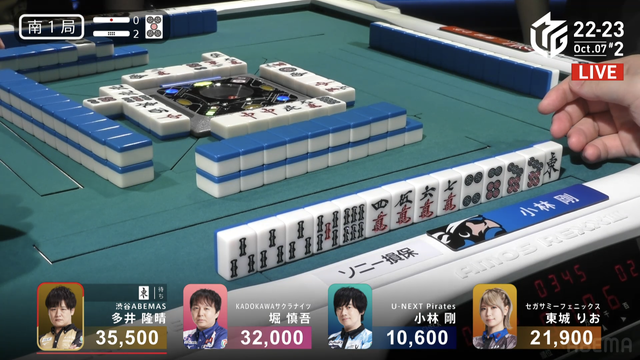 South Station 2, good deal of tiles that allow to see 456 three colors in the moats of the parent number.
vital point

When you scream from Tai

Add 12,000 tenpai.
However, Tai, who had put the tenpai in the mace, was in the ditch.
and scored 2000 points.
Kobayashi's gimmick, which has continued to have a difficult development so far, shines in the 3 Southern stations.
I kinda want to add points, looking at Sei Isshiki and Tanyao

the Qi.
Hori was the one waiting. Reaching with Honitsu's big hands and seven pair.
Kobayashi finished this station with Tanyao.

and connected hope with 2900 Agari.
South 3 station 2 home, parent number Kobayashi in the 11th round


Tenpai is waiting for the champagne.
Although the appearance of the tiles is often changed, it is not a trick that should wait for a change, so it is a quick range.
Tenpai also enters Toujou. Determined to collide with parents,


Wait and reach.
There are many people waiting for Kobayashi on the mountain, and in the final stage

Tsumo.
He became Agari of 4000 all and won 2nd place all at once.
South 3 station 3 home, Kobayashi again with a light gimmick to take the lead.
because it's sung

can only be lifted.
Dora that Kobayashi took out in Tenpai
The gap is pong.

A full tenpai enters the moat.
However

is Kobayashi's winning tile.
It was thought that Kobayashi had been shot, but upon reflection

avoid cutting.
Immediately after Kobayashi

Agari in the moat. With 8000 more points, he is closing in on Tai at the top.
Auras and Hori jumped to the top, Tai and Tojo were the boss, and Kobayashi was 3,200 points behind Tojo.
When the discarded tiles were about to reach the third row, Kobayashi got seven pairs.

Tenpai waiting for a single horse.
When you reach the reach, in one shot

and managed to climb to 3rd place with 2000/4000 Agari.
It was Tai who won the long battle of 19 stations.
I brought a happy top to ABEMAS.
2nd game result
1 multiwell (ABEMAS)+57.5
2nd Hori (Sakura Knights) +7.3
3rd Kobayashi (Pirates)▲18.0
4th Tojo (Phoenix) -46.8
October 7Total daily result
Sakura Knights (1st Uchikawa, 2nd Hori) +86.9
ABEMAS (3rd Shiratori, 1st Tai) +32.1
Pirates (2 by Nakabayashi, 3 by Kobayashi)▲7.8
Phoenix (Kayamori 4th, Tojo 4th) ▲111.2
Sakura Knights managed to add a big point, and ABEMAS also consistently added points and finished the first week in the high ranks. The pirates had signs of a tough fight, but they persevered. Phoenix had a tough day with a 4th straight finish.
The four teams are now complete. The only player who has yet to participate is Katsumata from Furinkazan.
Related page